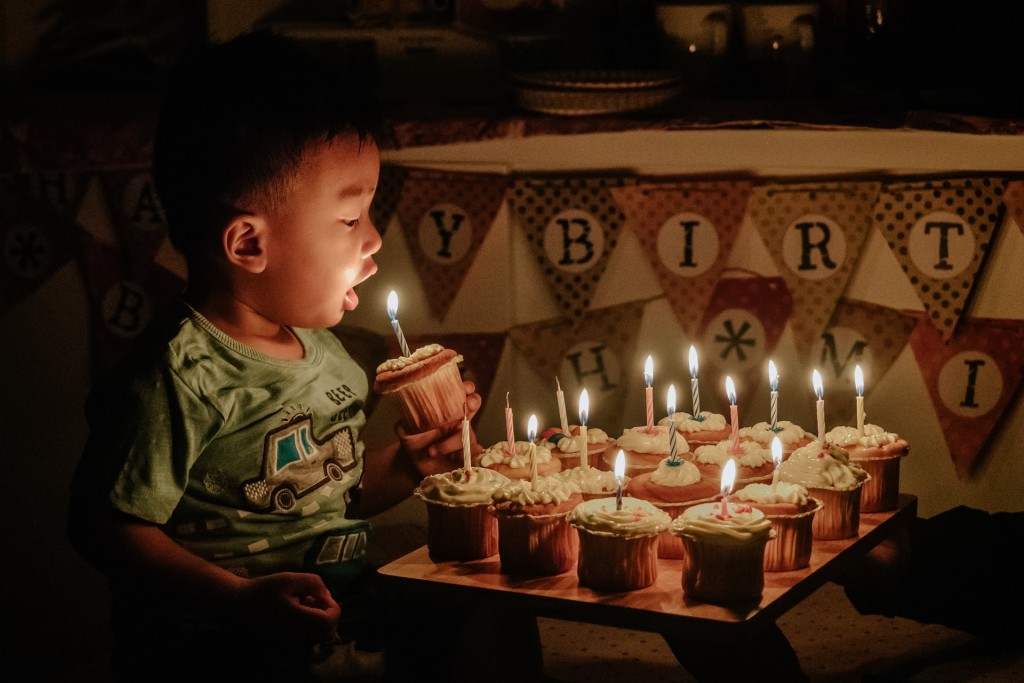 Birthday wishes are a great way to show your niece how much you love and care for her.
It is also a great way to show her that you are interested in her life and that you are proud of the person she is becoming.
Since the day your niece came into this world, not only did your family grow in size but your heart was filled with love and affection.
You get to experience some of the finest perks of parenthood without all the duties that come with it. You love every moment spent with her, for she makes you laugh and teaches you life lessons.
As her birthday approaches this year, make sure to celebrate who she is and who she will become as she grows older.
Whether your niece is young, old, or somewhere in between, here is a list of birthday messages to inspire you for her special day.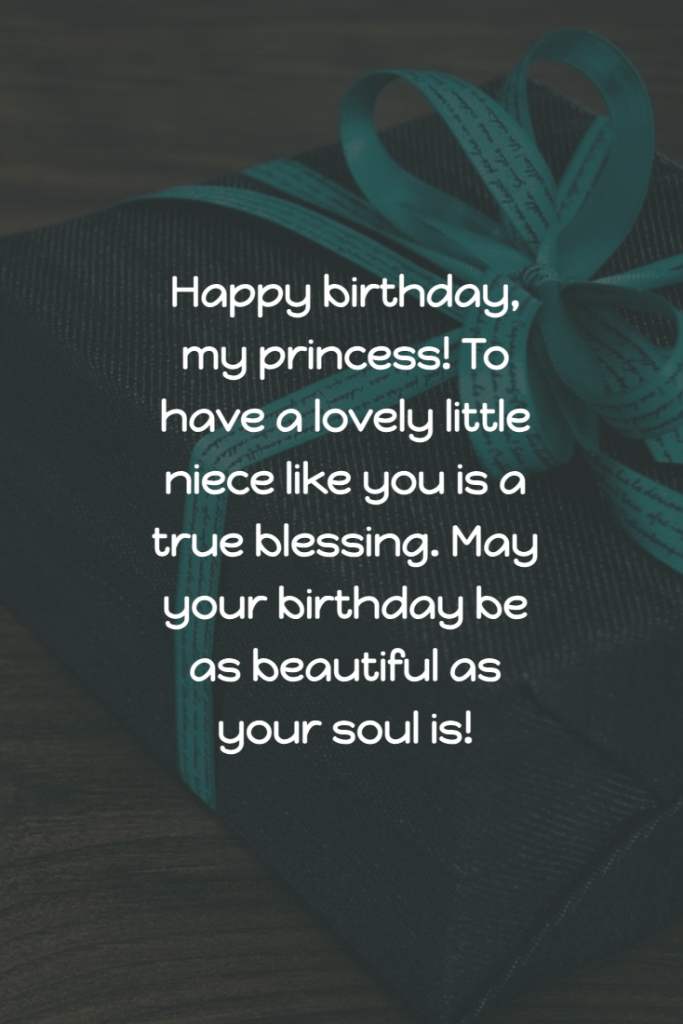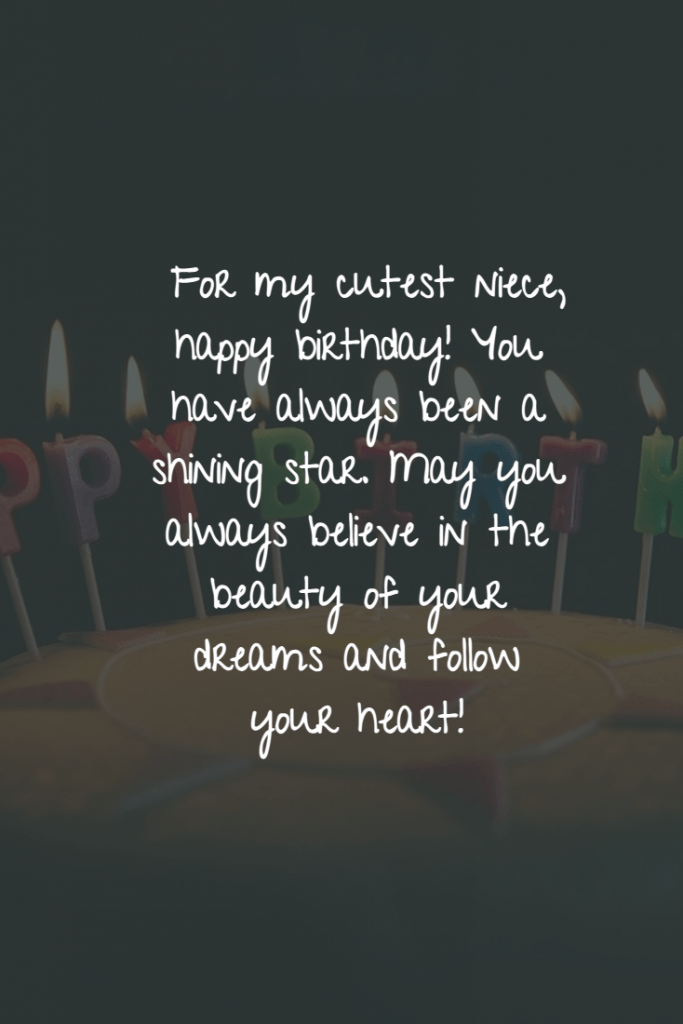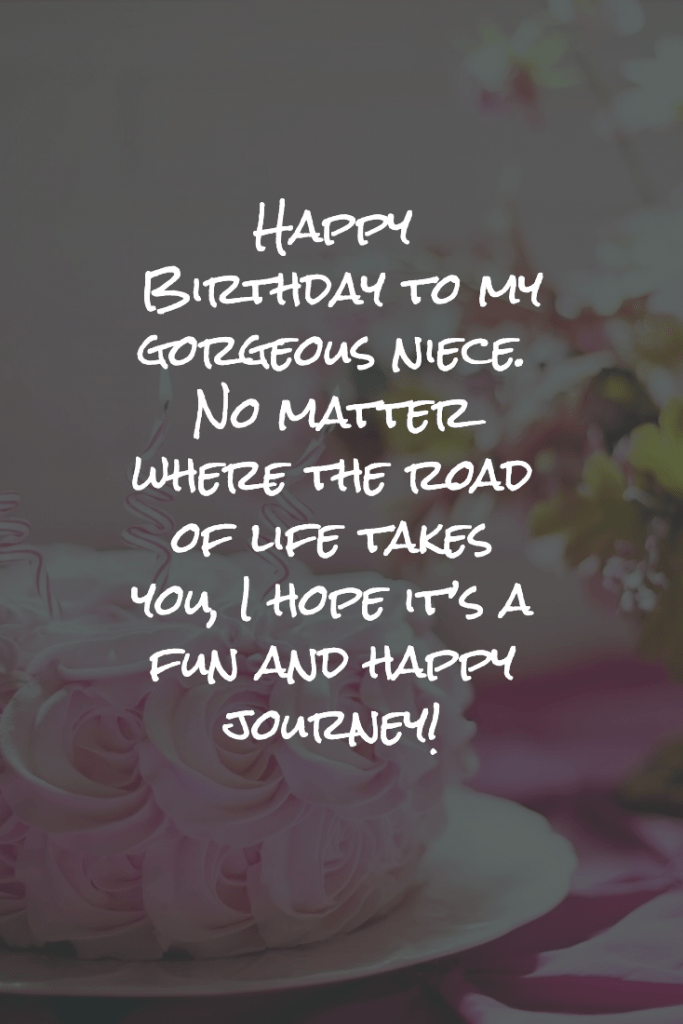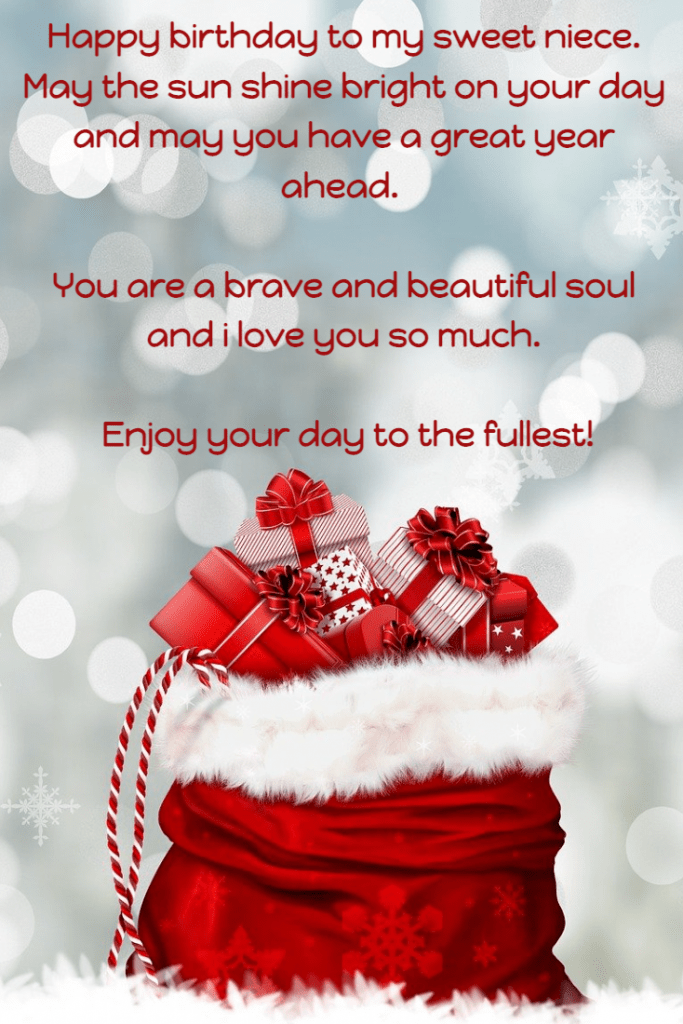 Happy birthday to my sweet niece. May the sun shine bright on your day and may you have a great year ahead. You are a brave and beautiful soul and I love you so much. Enjoy your day to the fullest.
Happy birthday, my princess. To have a lovely little niece like you is a true blessing. May your birthday be as beautiful as your soul is.
I've known you as a precious baby girl, a sweet little princess, and now a gorgeous young lady. You mean a lot to me, sweetheart, and I wish you the best birthday ever. Happy birthday, my lovely niece.
Happy birthday to my awesome niece. It's your day to sparkle and shine. May your day be as dazzling as you are. Enjoy every moment to the fullest.
On my cloudiest days in life, you are a beautiful rainbow. Thank you for always bringing light, laughter, and love into my life. Happy birthday, my beautiful niece. May your year be full of wondrous moments.
Happy birthday, sweetie. You are growing up to be such a beautiful woman, my dear niece. You make your aunt and uncle proud each and every day.
As you are my sweet niece, I'm allowed to ask for a wonderful birthday treat from you. Have a gorgeous birthday party.
To my beloved niece, happy birthday. You meet every new year with grace and strength; I am inspired by your ability to see the good in everything. Enjoy your day the most and do something extra special for yourself on your special day.
For my cutest niece, happy birthday. You have always been a shining star. May you always believe in the beauty of your dreams and follow your heart.
Happy birthday, my niece, your beautiful smile is infectious. Always be happy and never stop smiling, my dear.
Happy birthday, my beautiful niece. You are the kind of person who spreads joy and happiness wherever you go. You have certainly brought joy and happiness into my life, and I hope that your birthday brings you even a measure of what you bring to others.
Happy birthday, dear. Today is your day, so smile big and laugh out loud. I hope your birthday is filled with every delight and your year with every blessing.
Happy birthday, my niece. You are as sweet as a cupcake. I hope you have an absolutely scrumptious birthday.
Happy birthday, my darling niece. Today is the beginning of a new and wondrous year for you. I hope that it is filled with excitement, merriment, and contentment. You are worthy of that and so much more.
There is no greater compliment that I can give than to say: if I ever had a daughter, I would want her to be just like you. Happy birthday to you, my beautiful niece.
For my niece, happy birthday. You are a gift for everyone who knows you and I hope your birthday is as sweet as you are. Have an absolutely fantastic day.
You are the beautiful gift God blessed us with. Wishing you a birthday full of blast and enjoyment. May you have a happy and prosperous life. Happy birthday, my cute niece.
Happy birthday to my special niece. You truly are the most precious little girl and I am so blessed to have you in my life. I'm proud to call myself your aunt. May you continue to grow up so beautifully, my princess.
Happy birthday to a fabulous niece from a fabulous aunt. You only become sweeter and more gorgeous with each passing year, my dear. I hope you know that I love you with all my heart and you mean the absolute world to me.
Happy birthday to my sweet niece. You light up the room with your smile and spread joy with your laugh. The world is truly a more beautiful place because you are in it.
A niece like you is a treasure and a wonderful blessing. May your life be filled with success and brightness. Happy birthday, dear.
I remember the day you were born and how much you changed the lives of those around you. Since then, you have brought tons of joy and blessings. Happy birthday, my dearest niece.
Happy birthday, my beloved niece. You do much more than light up my life; you make everything in it sparkle. Thank you for being such a brilliant, gorgeous, and loving niece. May your big day be as precious as you are to me.
Happy birthday to my gorgeous niece. No matter where the road of life takes you, I hope it's a fun and happy journey.
My sweet and inspirational niece is celebrating her birthday today. Happy birthday, my dear. May your special day be bright and your future even brighter. I believe in you and I know that you're going to sparkle and shine today, tomorrow, and every day that follows.
No other niece could ever be as extraordinary as you are: extraordinarily beautiful, extraordinarily talented, and extraordinarily brave. You are a full package, darling. Happy birthday from your favorite aunt.
My lovely girl, my dearest niece, it is with a heart full of love that today I'm wishing you a happy birthday. May all your dreams come true. If they don't right away, don't give up on them. Sometimes, it takes time for the greatest things to happen in one's life. You deserve the best, and I'm sure you'll get it. Just remember to fight, and no matter what, I will always be here for you, because I love you as if you were my own daughter. Be happy, beautiful girl.
Happy birthday, princess. If I had to pick one word that sums up my feelings for you, it would be "chocolate." It's special and sweet, and I love it more than anything in the world.
My beautiful princess, I want you to know how proud I am of you as you turn 18 years old today. You never cease to amaze me with how incredible you are. Each year I feel more and more blessed to be your aunt. I'm wishing you many more wonderful years ahead and may there be a lifetime full of achievements waiting for you. Happy birthday, my sweet niece.
Happy birthday, sweetie. I have so many fond memories of us in the past: braiding your hair, playing with dolls, and painting your nails. But I am even more excited about our future together. I just know it will be great because you are a great-niece.
One of the greatest things that ever happened to you and your family was the birth of your niece. On her special day, tell her how she plays such a significant role in all of your lives and how much she means to all of you.
Make the most of her day with these wishes and a beautiful gift, for she is one of the most beautiful and amazing people you have ever met, and without her, your world is incomplete.
On this beautiful day, don't forget to offer your prayers for your family, as there is nothing more important in this world than our family.
Looking for more birthday wishes? Here are some more beautiful birthday wishes for your best female friend, daughter, and Little Brother.