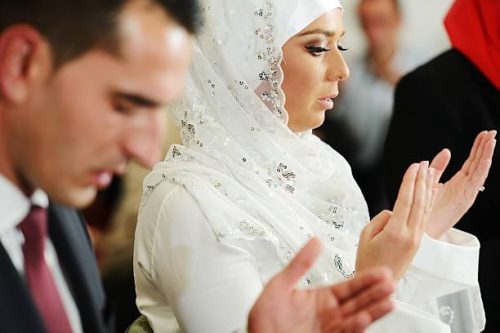 Islam is a religion of peace and teaches its followers to be soft-spoken. As marriage is considered a noble and important act in the religion, it is only right to find suitable greetings for it. How many times have you been to a Muslim wedding where you didn't know what to say other than the plain old congratulations?
Yes, it has happened to me too. It made me realize that there is a need for Islamic wedding wishes that are complete and meaningful. A couple who receives a wholesome wish on their wedding day would remember it for the rest of their lives.
One fast tip to crafting a good Islamic nikkah wish would be to speak from your heart. If you keep in mind the Islamic values you know of, you would be good to go. More often than not, many people aren't able to come up with beautiful words on the spot. I understand that struggle which is why I took it upon myself to come up with Islamic wedding wishes.
Nikah Mubarak Wishes
If you want, several fresh and impacting Nikah Mubarak wishes, keep scrolling.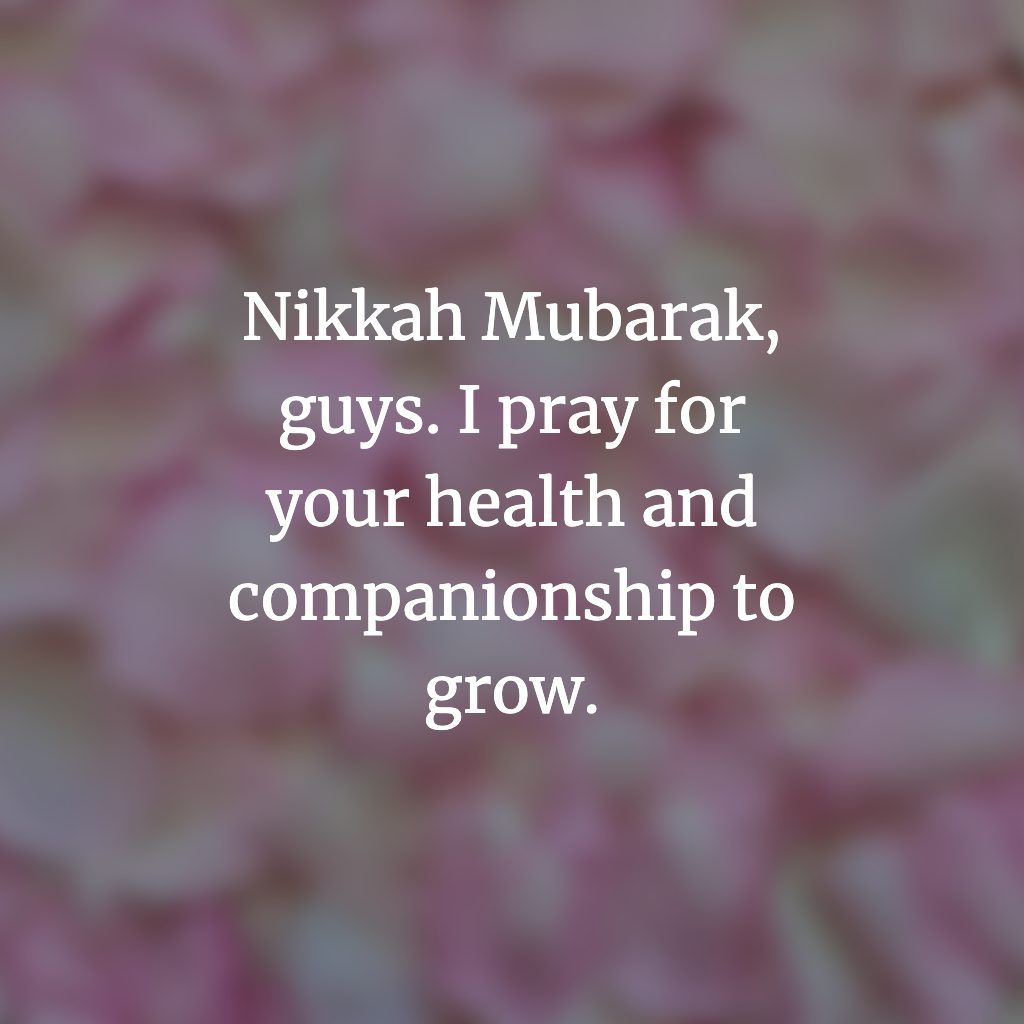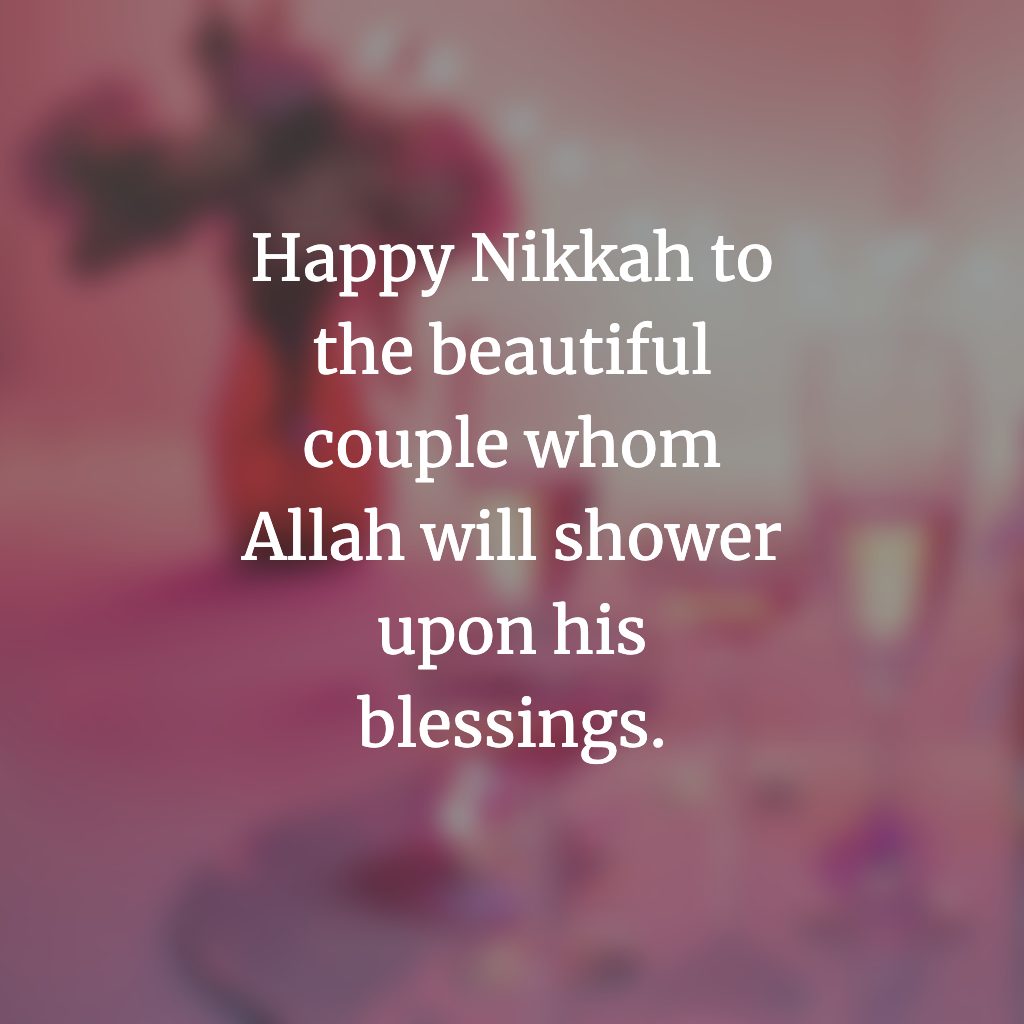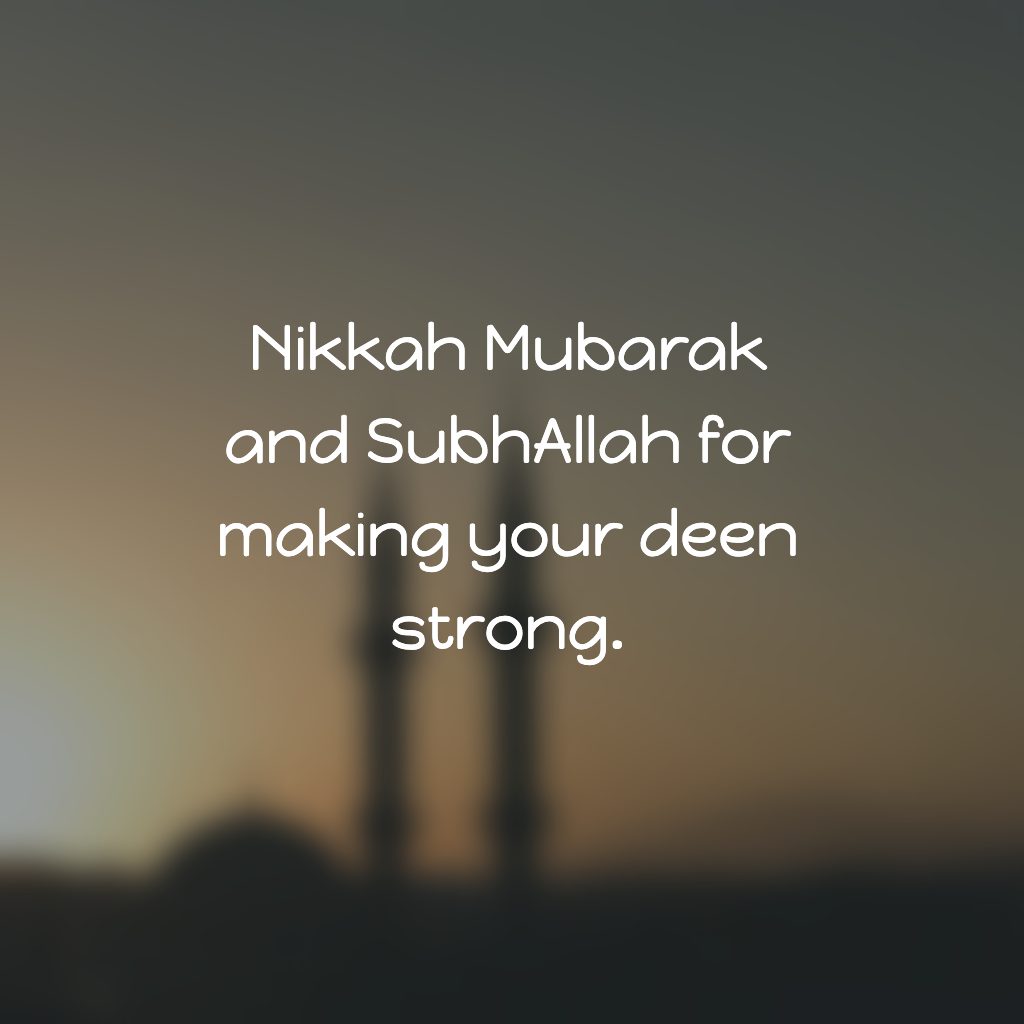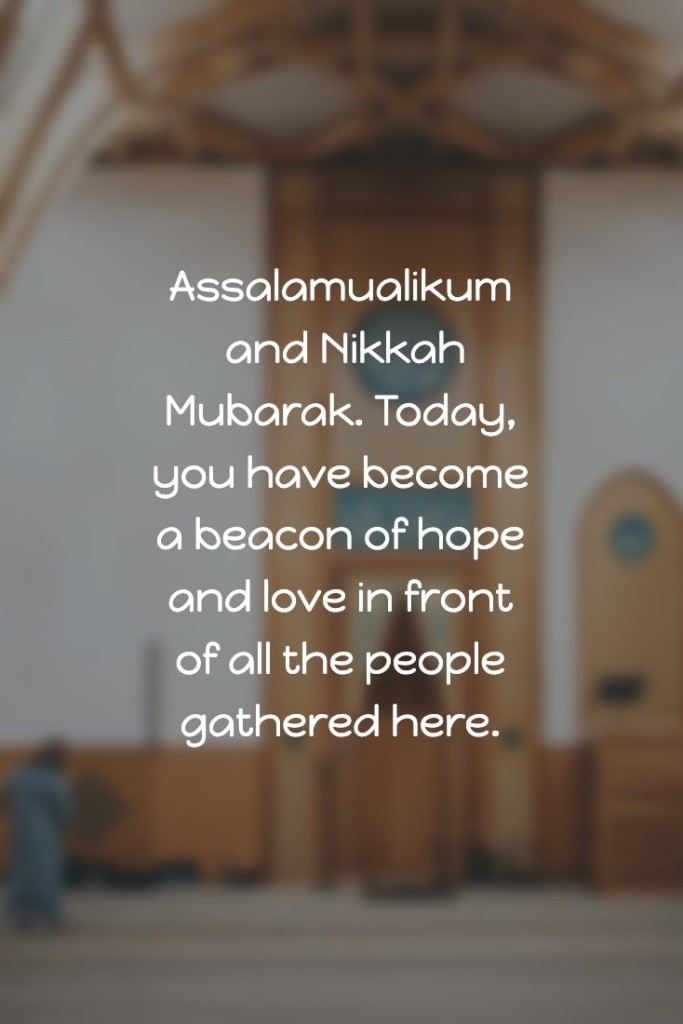 A blessed Nikkah Mubarak to both of you. I pray that your happiness and love increase tenfold from this day forward.
Nikkah Mubarak, guys. I pray for your health and companionship to grow.
Congratulations to the happy couple who just completed half of their deen by doing Nikkah. You guys are an inspiration.
Happy Nikkah to the beautiful couple whom Allah will shower upon his blessings.
Assalamualikum and Nikkah Mubarak. Today, you have become a beacon of hope and love in front of all the people gathered here.
Nikkah Mubarak to the bride and groom. I can see now that they are going to be each other's reason for entering heaven.
Congratulations on your Nikkah, and I wish that you both get your hearts' desires from here on now.
Blessings upon you and Nikkah Mubarak. Thank you for respecting me and inviting me to celebrate your special day with you.
Hi, Nikkah Mubarak to you and your partner. I am thrilled to be a part of the occasion and see the union that Allah has blessed.
Nikkah Mubarak and SubhAllah for making your deen strong.
Islamic Marriage Wishes
The wishes that you say to the couple need to be special yet concise. Below I have compiled a list of meaningful wishes that wouldn't take too much of any couple's time.
Happy wedding day, you both. I set my eyes on you and can feel the presence of Allah's angels in this event as they write down your good deed of getting married.
Congratulations to the couple who tied the knot in the most Islamic manner. You have made your families proud, and I wish you make each other happy.
Happy wedding and I have to tell you that it is a treat to be present here. I pray that you both keep each other on the right path of Islam.
Congratulations, and I hope this union is a cause for furthering the teachings of our religion.
Wedding Mubarak and may Allah hold your hand and lead you to the gates of heaven.
Congratulations on your wedding, and I hope that you both follow the teachings of Islam to help create blessings for this relationship.
Congratulations to the blessed couple who, I'm sure of it, have made our God very happy today.
Wedding Mubarak to you, and your spouse and I pray that you both become each other's peace.
Congratulations on this Islamic holy union.
Hello, I want to wish you guys a big congratulations and let you know that seeing you being blessed with a lovely spouse by God has given me hope for myself.
Islamic Wedding Wishes for A Friend
A friend of yours is getting married, and you want to wish them the best and the Islamic way? I have got the right wishes for you all lined up.
Congratulations, my friend. It is a joy to see you here with your better half, and I hope Allah keeps you both content.
A happy wedding day to my friend and their partner. As soon as I entered the venue, I felt a divine presence, and it felt reassuring because I know that today you both have furthered the path of Islam.
Congratulations on one of the best days of your life. As your friend, I hope you know that I pray to Allah for you and your spouse's peace and togetherness.
Wedding Mubarak to the best couple I know. I can't thank Allah enough to allow me to see the day when my friend is blessed with one of the best things in life.
A very happy wedding. I pray that you are always surrounded by the love, peace, and guidance of Allah.
Congratulations on this life-changing day. I hope it is the start of a great life for both of you.
Congratulations on not only having a great wedding ceremony but also on showing others what advancing in the religion looks like.
A blessed wedding day to you. I feel nothing but immense delight for you guys. I hope Allah forever protects your relationship.
Congratulations to my brother and sister in Islam. I wish all the good things in the world for the two of you.
Congratulations on having one of the dopest yet religious wedding ceremonies ever. I can't express my glee enough to see you two together.
Islamic Wedding Messages for Son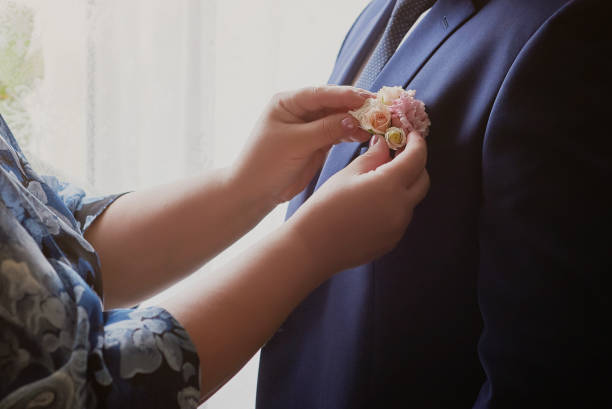 The day any of your children get married is the purest of all. Your son, whom you have always loved, is tying the knot; what do you say?
My son, congratulations on getting married. I can't believe the day has come when my little boy is all grown up. I am so proud of you.
Congratulations to my entire heart on completing half his deen today. You are the best son a parent could ask for.
A blessed wedding is this one because my son got married. It seems impossible to believe that Allah has been so kind to me, but here I am, with the best son and daughter-in-law.
Wedding Mubarak to my son and my daughter-in-law, who is more like a daughter to me. It is one of the most important days of your life, but I feel Like Allah has blessed me today. He has shown me, love, in this merger, and for that, I am grateful.
A very big congratulations to my son who just said yes to the beautiful girl with him. He has completed every parent's dream by getting married and showing the world a pure Islamic way to love.
Happy wedding to my son. I might be a little biased, but I think that he is not only a blessing to me but to the entire world because of his virtuousness.
Congratulations, my child. I wish for you what every parent wishes for their child, hope, calm, and contentment.
Congratulations, my peanut. The day you were born, I knew you were only going to bring me delight, and you have done so ever since. I thank Allah for giving me you.
Wedding Mubarak to my handsome son. Every parent wants to see their children succeed in Islam, and I see it happening today when my son signed the Nikkah papers.
Congratulations, my dear sweet boy. I love you for being my son and a good Muslim. You have made being a parent one of the best things in the universe.
Islamic Wedding Messages for Daughter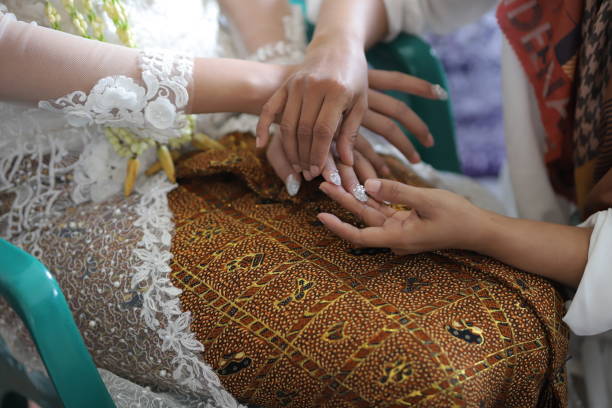 Your little girl saying yes and getting married is the stuff of dreams, right? Daughters are perhaps the most precious and purest beings on this planet. It is not easy to say goodbye to them, but I am here to help you say beautiful Islamic wishes to them on their wedding day.
My fairy, congratulations. You are the light of my eyes and perhaps my guide to heaven.
Congratulations to my little princess on her big day. Allah has said in the Quran that daughters are special, and I can attest to that because I have you.
To my big girl, happy wedding day. I want you to know that I always prayed for a daughter, but I never imagined being blessed enough to have a daughter like you.
Congratulations, you beautiful child. Today I would like to address your partner and tell him that he is the luckiest man alive because he gets to spend the rest of his life with you.
For this reason, my heart beats steadily; congratulations. I am a lucky parent to see my daughter marry the love of her life with that big smile on her face.
A couple remembers everything that happens on their wedding day. It is your duty to make sure that your wish is Islamic and memorable. I have given you a few examples but what would be mind-blowing is if you could personalize it more.
Think about the couple and write about them. I would love to hear from you, my dear reader, about what you have crafted.