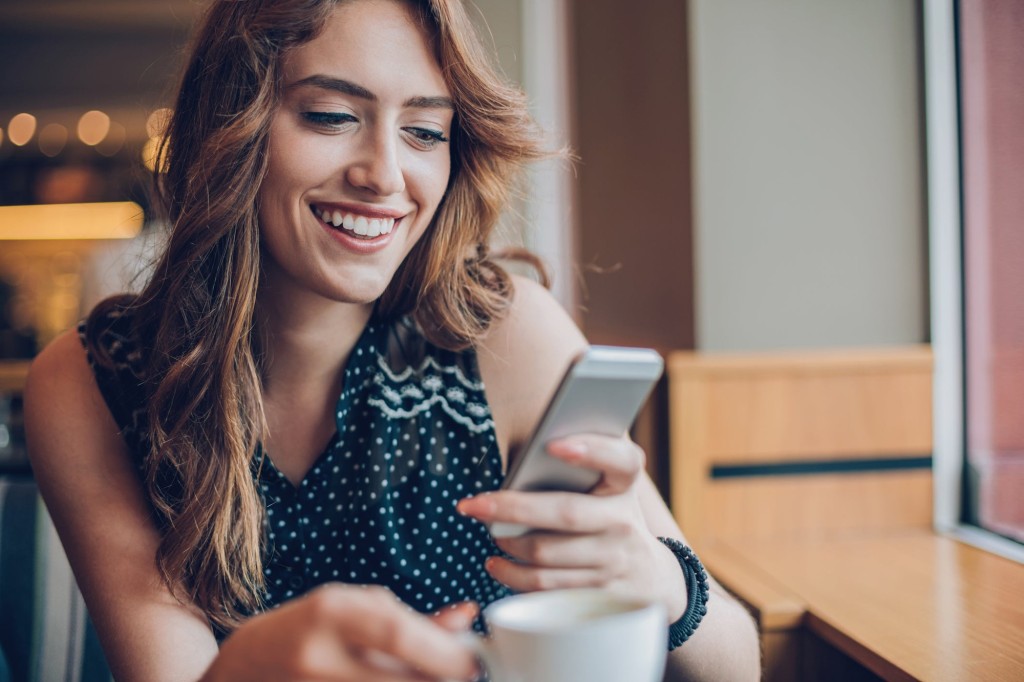 Greeting someone with a pleasant morning has been a tradition in most parts of the world for a long time. It is a simple greeting yet quite refreshing.
Wishing your beloved woman a good morning can brighten her day and keep her happy the whole day. A single good morning text holds a lot of value in the life of your special someone, so why not do it every day?
The problem here is that saying "Good Morning" every day can become monotonous and boring. However, you don't need to worry anymore; I will list down some creative and unique morning wishes you can send her every day. I am pretty sure she will adore you more with each greeting you send her.
(This article is divided into multiple sections with different Types of Good Morning Texts. Choose the one which is more suitable for your stage of a relationship.)
Simple Sweet Good Morning Messages
If you two are not in a romantic relationship but like the girl a lot, you should start with sweet and simple good morning texts. These texts will show her that you care and will make sure you are not overstepping your boundaries.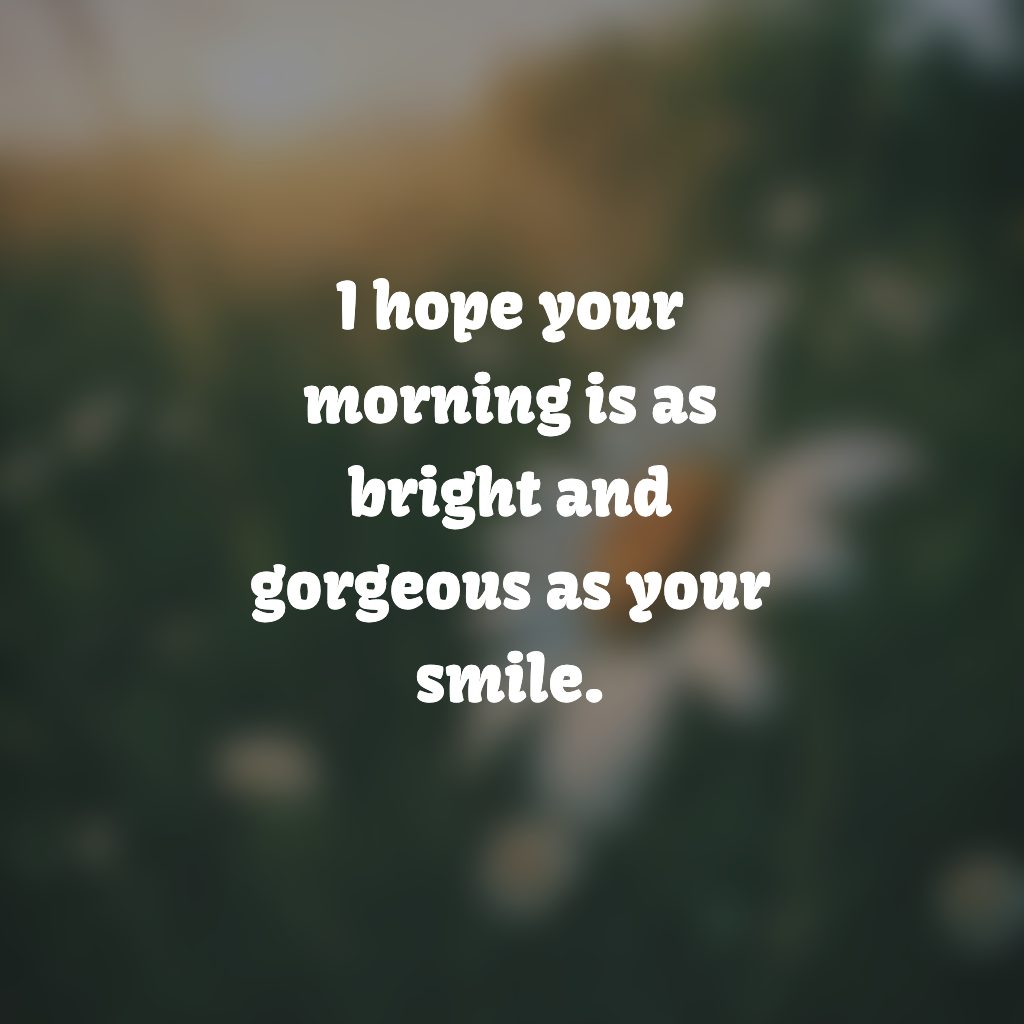 Rise and shine. It's time to have a great day.
May you begin this day with a smile on your face and with happiness for your soul to embrace. Good morning.
Sending you millions of smiles! Take one each morning, because I want to see you smiling always. Have a blessed day.
Every morning is a symbol of rebirth in our life. So forget all yesterday's bad moments and make today beautiful.
Good morning. A good day begins with beautiful thoughts and pure intentions. Enjoy your day.
The smell of my coffee tells me that this is going to be a good day. Have a good morning and a good day.
Good morning. You know there will be days in life when others are winning. But today let it be your day.
Have a day as good as the pleasant summer breeze. Wish you a very good morning.
Good days always make you realize that this world indeed is a beautiful madness. Have an amazing day.
Grab the opportunity to make your day better than yesterday. Good morning and have a nice day.
Flirty Good Morning Text Messages
If she is comfortable enough to flirt with her, good morning messages are the best way to do that. These messages will be an excellent start to her day, and she will be thinking about you a lot during the day.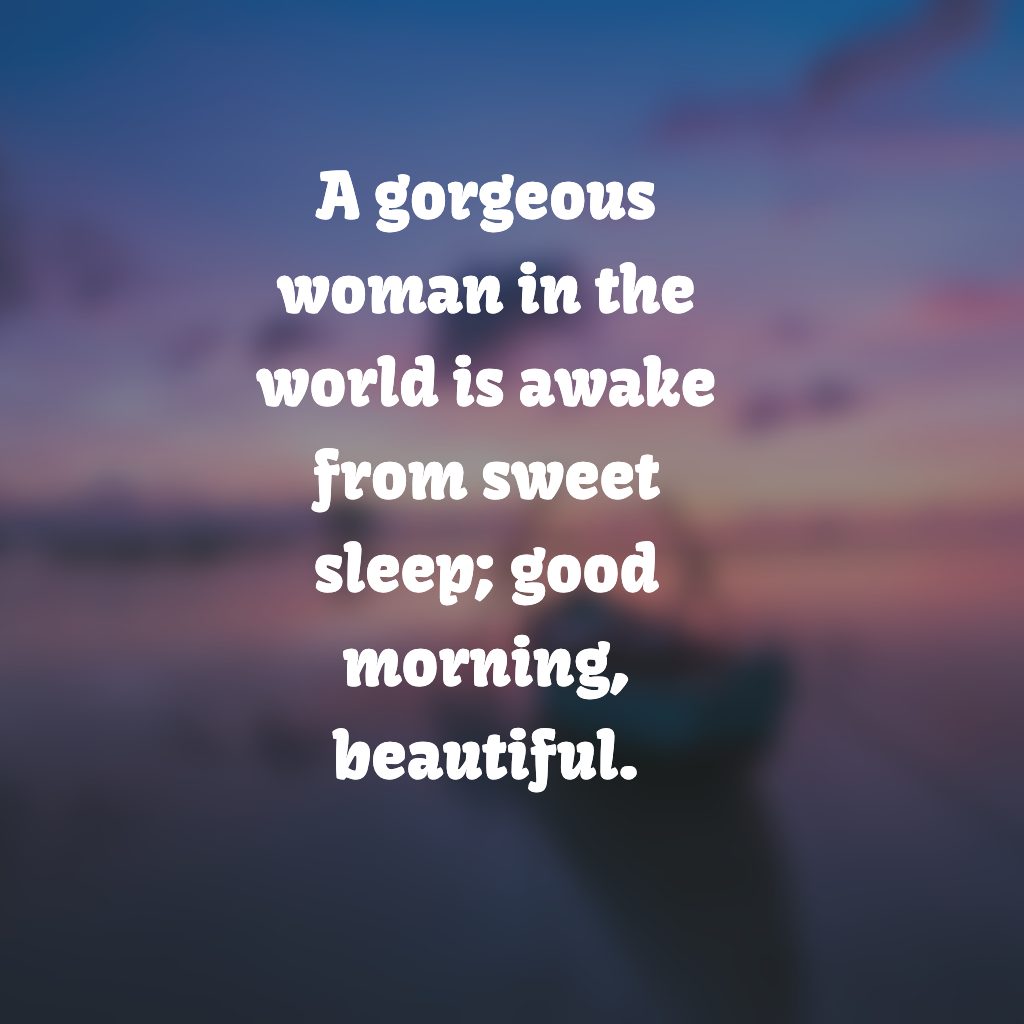 I hope your morning is as bright and gorgeous as your smile.
Lil Dove has entered a new day; let's make it a great day together; good morning.
In case you forgot to remind yourself this morning… your smile lights up the room. Your mind is insanely cool. You are way more than enough. And you are doing a fantastic job in life.
It is a moment of joy again. A gorgeous woman in the world is awake from sweet sleep; good morning, beautiful.
Funny Good Morning Text Messages
Nothing would make her day brighter than making her laugh early in the morning. Making her laugh is a sure way to win her heart. Send these texts to her before she wakes up to make her day full of smiles and laughter.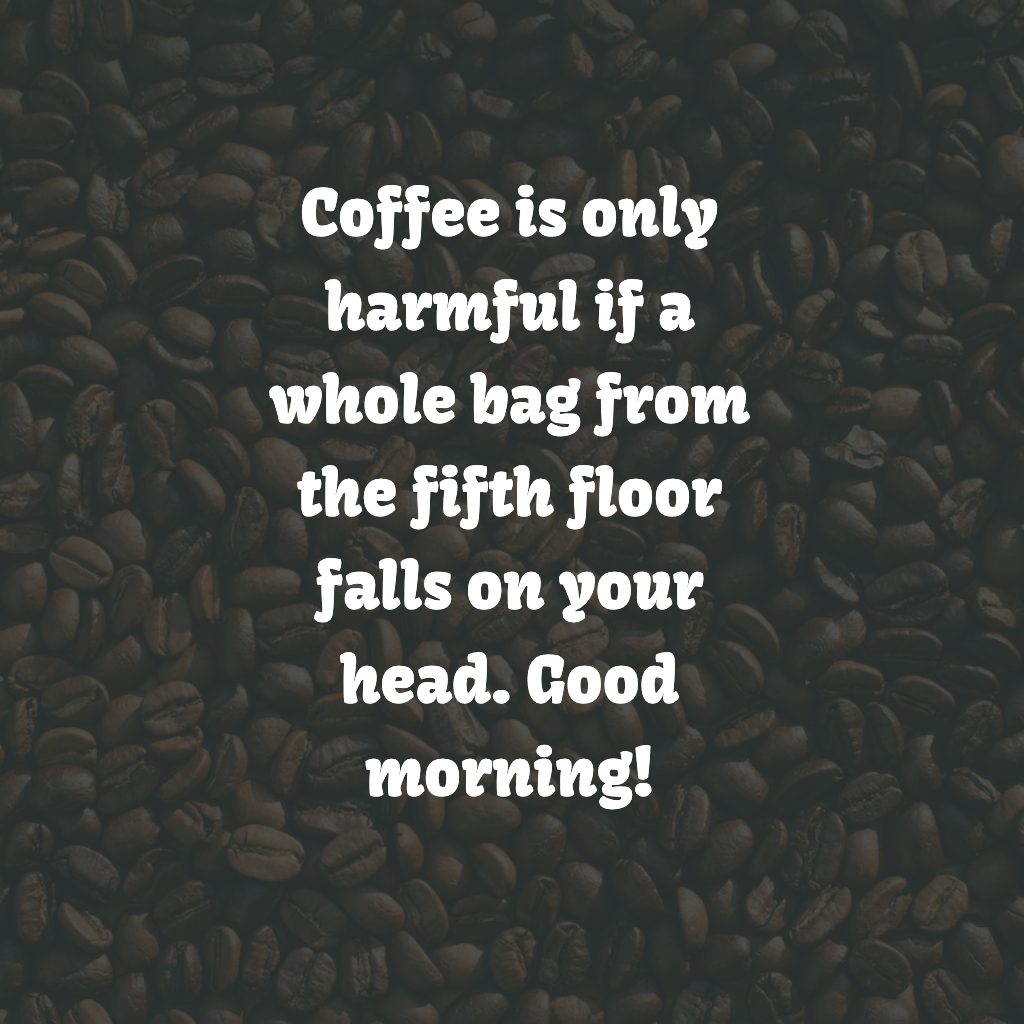 I'm the first to send you a good morning message. Yay! I just won a competition between us that you're not even aware of. Good morning, sweetheart.
Coffee is only harmful if a whole bag from the fifth floor falls on your head. Good morning!
That wonderful bird, singing near your window, is my companion, who agreed to help me express my feelings for you.
Don't you just hate that part of every morning when you have to get out of your bed and take part in real life? Me too, love, me too.
Messages from Heart to Show Love & Care
Getting a good morning text from your loved one is an unbeatable feeling. These are some texts that will make her feel loved. These texts will show her that you care about her and will fill her heart with immense warmth.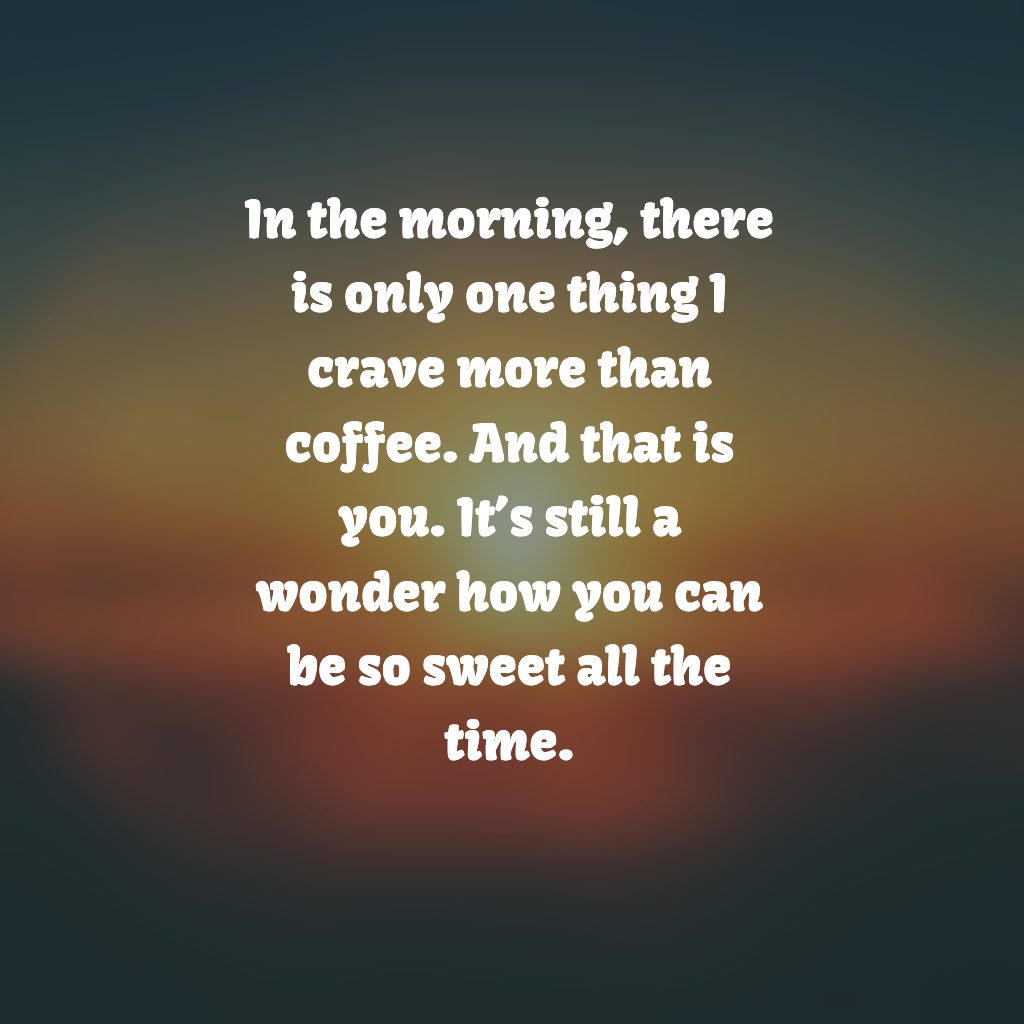 Right now, you are probably sleeping like a baby. All I wanted to tell you was how beautiful you are. If you are awake, I hope that this message brings a smile to your face. If you are not, then hopefully, this message will set the tone for your day. Here's to hoping that your day is as extraordinary as you are.
Each evening, I fall asleep with dreams of you in my mind. In the morning, I wake up with the hope that you will be lying in bed next to me. Every part of my day revolves around the hope of being with you again.
In the morning, there is only one thing I crave more than coffee. And that is you. It's still a wonder how you can be so sweet all the time. I find myself wanting to be by your side each moment. Wake up and live your day to the fullest. Lovely Good morning!
The morning breeze on my face makes me think of you. The sun on my skin makes me think of you. Even the birds singing their beautiful songs make me think of you.
Deep Good Morning Messages For Her
Showing depth in your good morning texts will definitely keep her thinking of you the whole day. These are the texts that will make her anxious to meet you as soon as possible.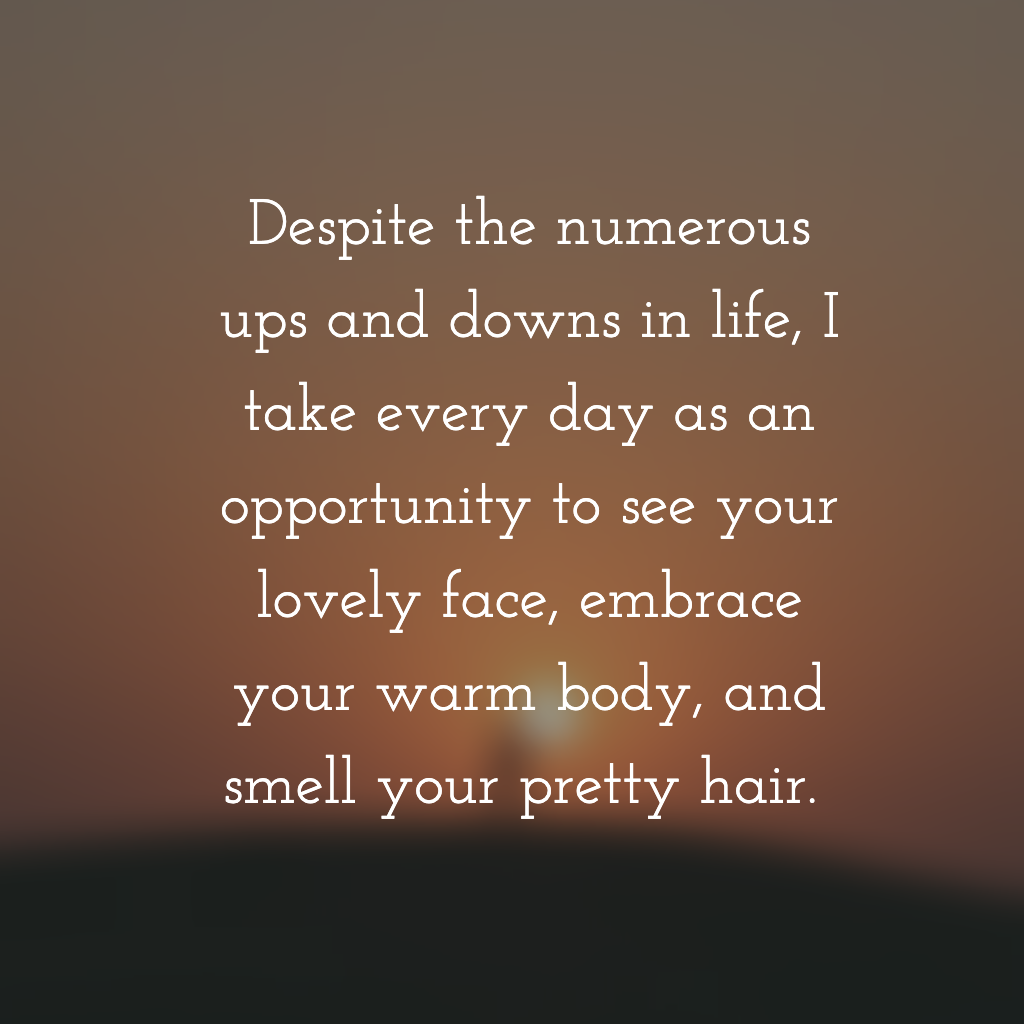 Despite the numerous ups and downs in life, I take every day as an opportunity to see your lovely face, embrace your warm body, and smell your pretty hair. You are, indeed, everything real in this world of make-believe. Have a great morning.
If I were to walk on hot coal, walk on thorns, swim in the deepest ocean, scream as loud as I could just to see your beautiful face, and tell you a lovely good morning, then I would gladly do it. Good morning my love. Have the most fantastic day.
You're more than a moment to me, my angel. All I ever wanted came suddenly when you brought heaven to me. Now I feel like I'm in paradise every time I look into your eyes. Love good morning.
Most people pray for money, wealth, and others, but I only pray for you to wake up feeling great like never before because that means more to me than anything in the world. Good morning. I have been thinking about you all night. I love you.
Messages to Make Her Smile
Do you want to show her you love and adore her and also put a smile on her face? Here are some texts that will tell her you are into her, and you can make her laugh.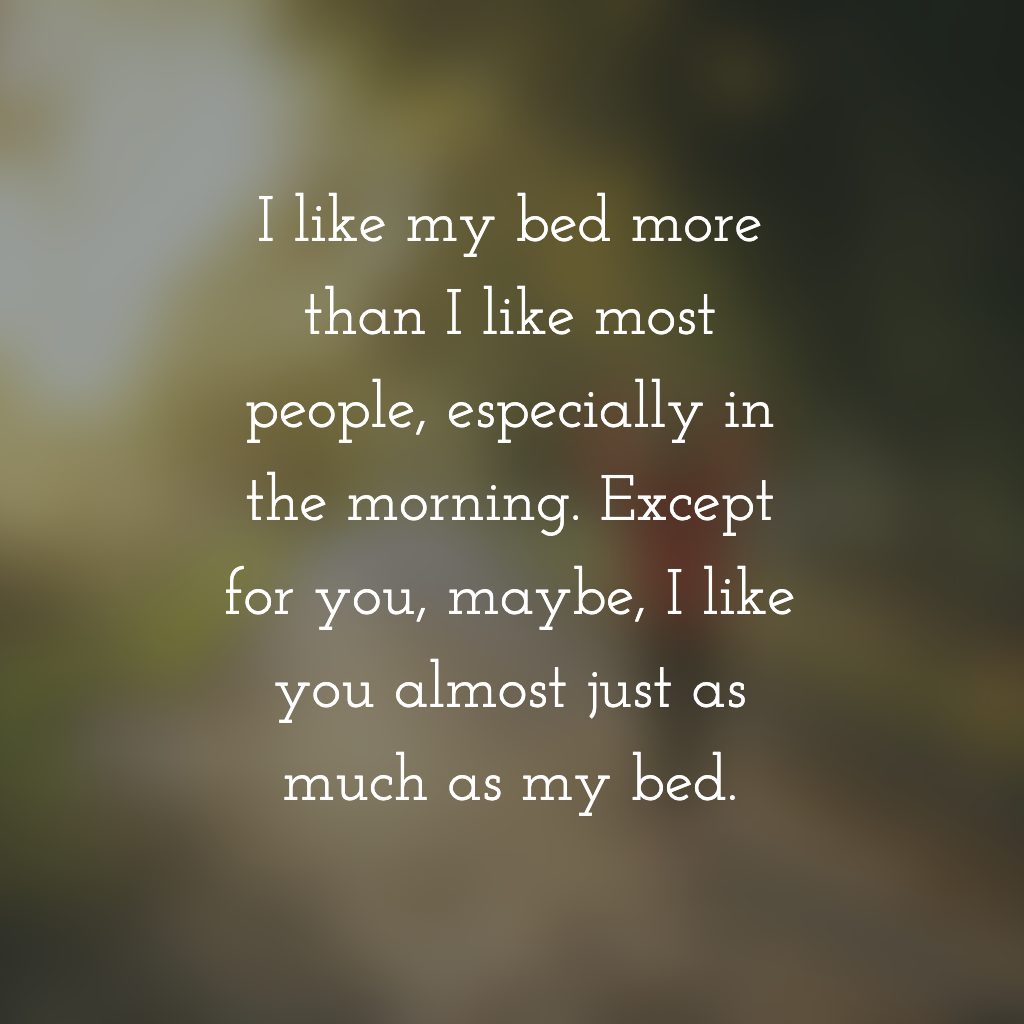 I like my bed more than I like most people, especially in the morning. Except for you, maybe, I like you almost just as much as my bed.
Sending the person who puts up with me every day a good morning message! May this morning find you even more patient than the last!
I was thinking of borrowing a kiss from you this morning. Will you give one to me? I have no problem returning it with huge interest! Good morning!
Today, I woke up with a horrible realization that it is not Friday, and tomorrow is not Friday either. What is even worse is that the day after tomorrow is also not Friday. But then I realized that I would get to see you today, so it made my whole week.
Messages to Make Her Fall in Love
What if both of you are dating and haven't decided what to do next and you are already in love with her? Here are some beautiful greetings that will make her fall in love with you over time.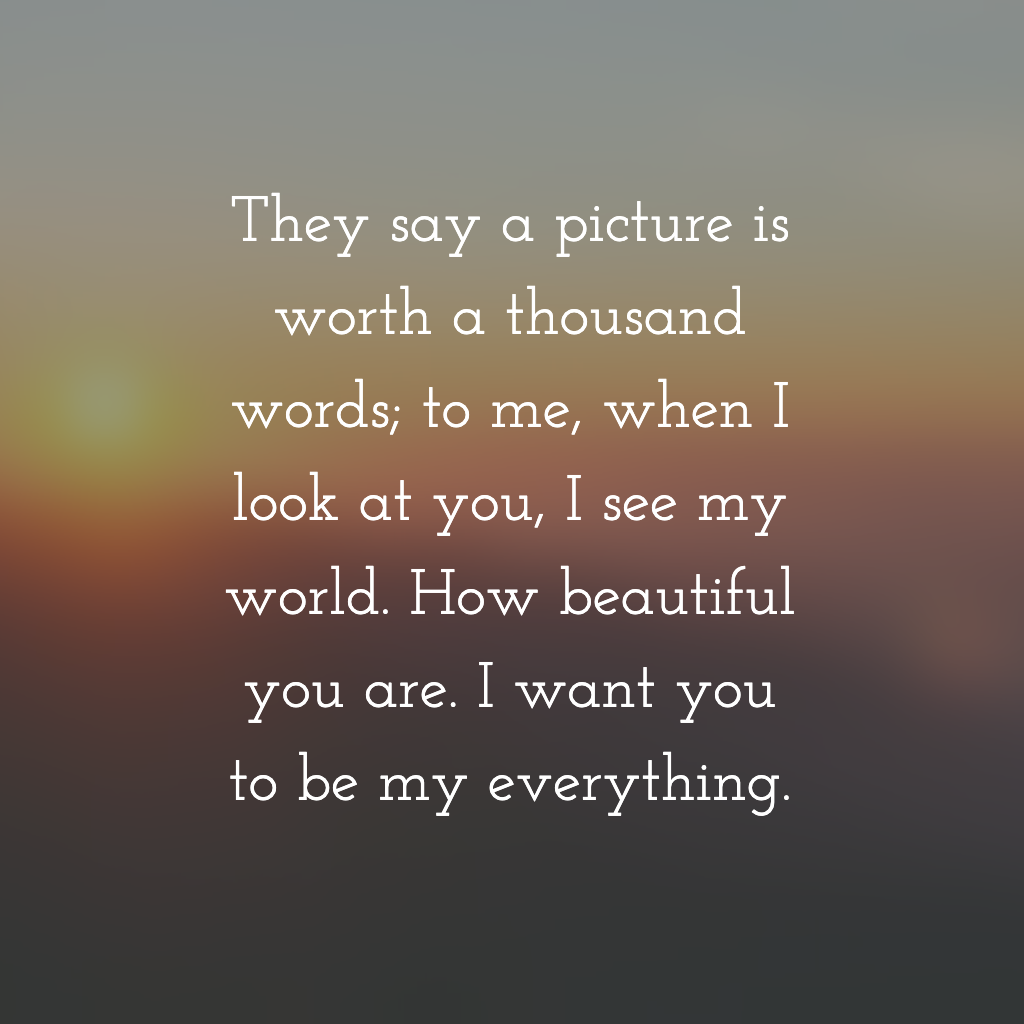 They say a picture is worth a thousand words; to me, when I look at you, I see my world. How beautiful you are. I want you to be my everything. Wishing you a Good Morning Message.
Good Morning, You have such an amazing heart; I wish I could give you my eyes to look at it. I want to be your heartbeat so that I can always be close to you.
I always thought one experiences happiness once in a lifetime; I was wrong, but happiness is a daily experience; I feel happy every second I am with you. Good Morning.
Alarms go off loudly, and the birds chirp melodiously, but nothing else can get my day started apart from your voice. Thank you for everything, and have a pleasant morning ahead.
Messages to Make Her Cry Tear of Happiness
When I say "make her cry," it doesn't mean you hurt; it means you make her feel so loved that she will make her cry tears of happiness. Here are some texts that are a sure way to make her drop a tear or two.
Though I'm not there to wake you up, I hope my numerous morning messages are annoying. You mean so much to me, and I hope to spend the rest of my life with you. I would never stop loving you. Good morning beautiful.
With you, everything seems brighter and better. You are mine, to have and to hold. I want to look into your glistening eyes, your skin that is radiant as the sun, and your touch, soft as silk. I want you and no one else. Good morning and have a great day.
At night, all I think about is our future, and in the morning, I see our future in your eyes. I hope you woke up with a pleasant smile and ready to present yourself to the world. Good morning, special human.
Each dawn, I wake up feeling happy and smiling like a child, and it's all because of you. I love you so much that it hurts. I have never found something so fulfilling, addictive, and so hard to live without. Have a glorious morning, love.
Thoughtful Good Morning Message For Her
One of the best types of good morning messages is the one that feels like you have put some thought into them. These good morning texts will appreciate you for being so thoughtful and considerate of her.
Being with you makes me look forward to the days ahead because I know we are getting better at this. I can't just get enough of you. I promise to stand by you every single day. Good morning and have a delightful day ahead.
Whenever times get hard, I chin up and remind myself that I have someone worth waking up for. As you carry on through this beautiful day, I pray that you stay strong and think of the love we share. I love you.
Good morning, cute bunny. I pray that this morning brings you all the pleasant feelings in the world. You are my tender distraction, incomparable to anyone else in the world. Get up and conquer the day.
As you spread your soft arms and open those large starry eyes, I want you to remember that you will never experience this day again. Make each moment count and dare to achieve all your goals. Good morning darling!
Passionate Good Morning Messages For Her
Sometimes you need to show her how passionate you are about her. These texts are just the right ones to show you are crazy about her.
When we first met, I never thought my life would change this much, but you have proven just how phenomenal you are time and again. I hope this day offers you love and blessings. See you soon.
Your graceful presence calms my nerves, and your aesthetic smile is divine in every way. I dread being away from you, but I promise to give you the best hugs when we meet. Good morning, the woman of my dreams.
To the woman who makes my heart beat a little harder and my mind race a bit faster, Good morning. I choose to love you more each day and hope to experience the best in life with you by my side.
You're my lover, my girlfriend, my best friend, my heart's desire, and everything I would ever want. I cherish this love and will forever be grateful to you—good morning, cute face. Have a day as sweet as you are. I love you.
Good Morning Texts to Show her you are Proud of Her
Do you want her to know how much you appreciate her and how proud you are of her? Choose something from here.
On this beautiful morning, I wanted to remind you that I love you, appreciate you, and am proud of you.
Good Morning. I'm so unbelievably proud of you every single day. I can't wait to see you again, so I can hug you tight and tell you how proud I am in person.
You, my love, deserve all the best things in life. Thank you for all the times you picked me up and inspired me to be a better person. I am forever grateful. Receive blessings today.
Good Morning Message if You Live Together
If she lives with you, do you think she wouldn't want to wake up to cute good morning texts? Wrong! Love is all about effort and loving her every day more than tomorrow. Send her these texts every morning, so she wakes up with a heart full of love for you.
Every day before leaving, I stare at you sleeping peacefully and marvel at how beautiful you are. Being with you has taught me a lot more than being alone would ever teach me. Thank you, and good morning, my queen.
Whenever I wake up and count all my blessings, I count you twice. May this day bring forth the best in life to give you the happiness you deserve. Wake up so we can chase our dreams together.
Saying that my mornings are magical would be an understatement. Drinking my cup of hot chocolate while watching your glowing face is everything to me. I wish you all the happiness this day has to offer.
Good morning, my love. No matter how hard this journey gets, I will always be here to give you hope, strength, and above all, a reason to smile. I hope you work diligently today. Have a productive day.
How about sending random morning messages to her as little virtual gifts of love and appreciation? She will look forward to your messages every morning.
Have a Good Day Messages
How about you stop planning, preparing, and plotting all the moments you thought would create meaning and simply go ahead and take action?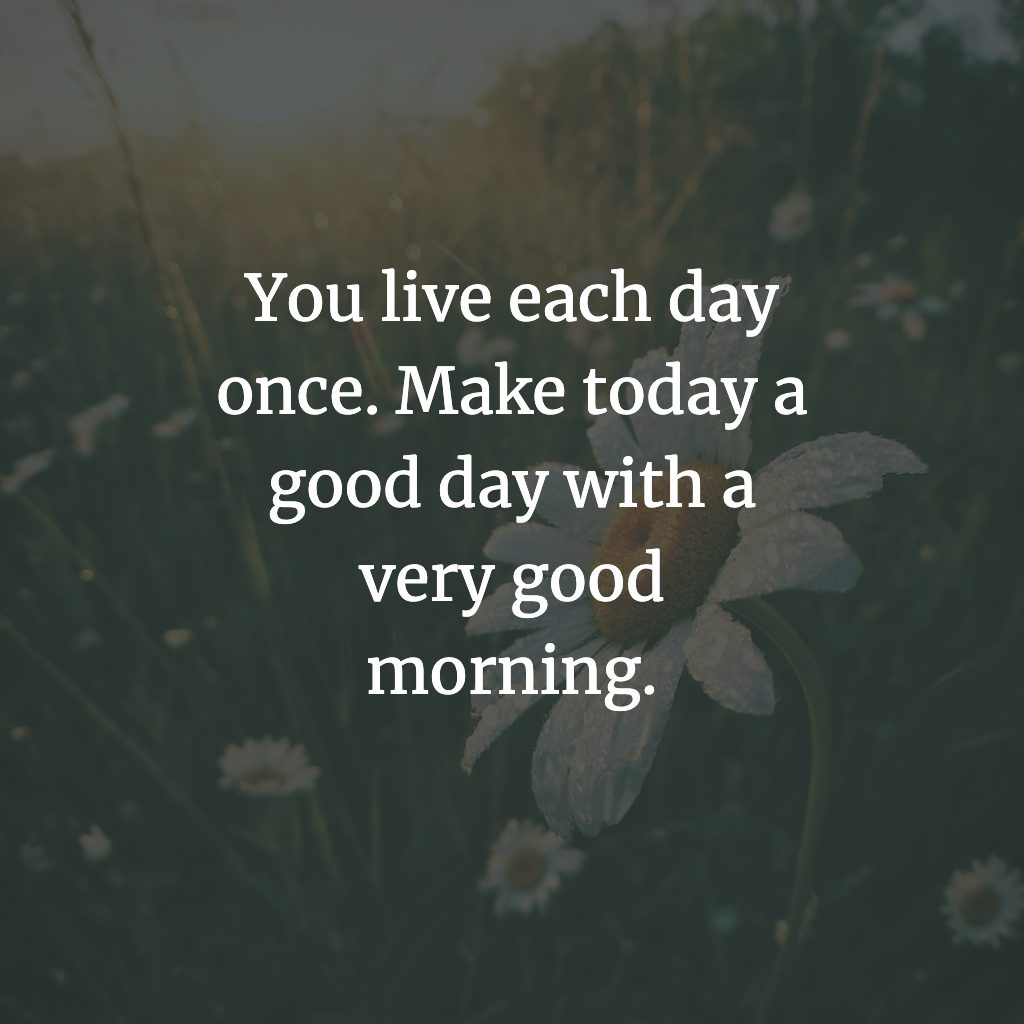 You live each day once. Make today a good day with a very good morning.
Good Morning. Just wanted to say that be optimistic and love what life has given you. The problem with us is that we don't genuinely love what we have and love what we don't have. I still hope that you do get what you love anyway. Have a good day
You will be surprised to know what the universe holds in store for you today. Good morning.
Good morning. I wish you a tremendous day ahead. May your day be blessed with the best.
Use your positive energy right from this moment to seize the day. Welcome any challenge with open arms and a wide smile. Good morning and all the best.
Good morning. Always smile because this is the key to living a blissful life. Have a nice day.
May you have an amazing day. Start it with all the positive vibes you have. Have an amazing time. Good morning.
Good morning. I wish you a colorful and beautiful day. May you have everything you have ever wished for. Have a blessed day.
Good morning. Smile, love, and pray. Go ahead with these things to be happy in life forever. May you have the best day today.
Good morning. Do you know a good day consists of being kind to others, putting on a bright smile, and handling it all with positive energy? Have a fabulous day.
Good morning and have a nice day. Just wanted to wish that may your day be blessed with the best. Love yourself most importantly. Keep on dreaming big and put all your hard work in to make it a reality. Keep your ego aside and step ahead to make your life better than before. You will surely have happiness at every step.
Have an amazing day and good morning. You will be surprised to know that a good day surpasses all bad days of the week. Here is to wishing you a day so wonderful that it makes you forget all your problems.
Good morning girl. Just here to wish you a great day filled with happiness and great joy where you are surrounded by best friends and beloved family members. Cheers to a terrific day ahead.
Having a great day can do wonders for one's mind and health. I hope that your day is so awesome that your troubles melt away and all your worries come to an end as well. Good morning, you amazing gal!
Encouraging Good Morning Messages For Her
Offer support to her when she is in trouble and going through a rough patch of life. Let her know that she can count on you as a sincere well-wisher and supporter in both the good times and bad.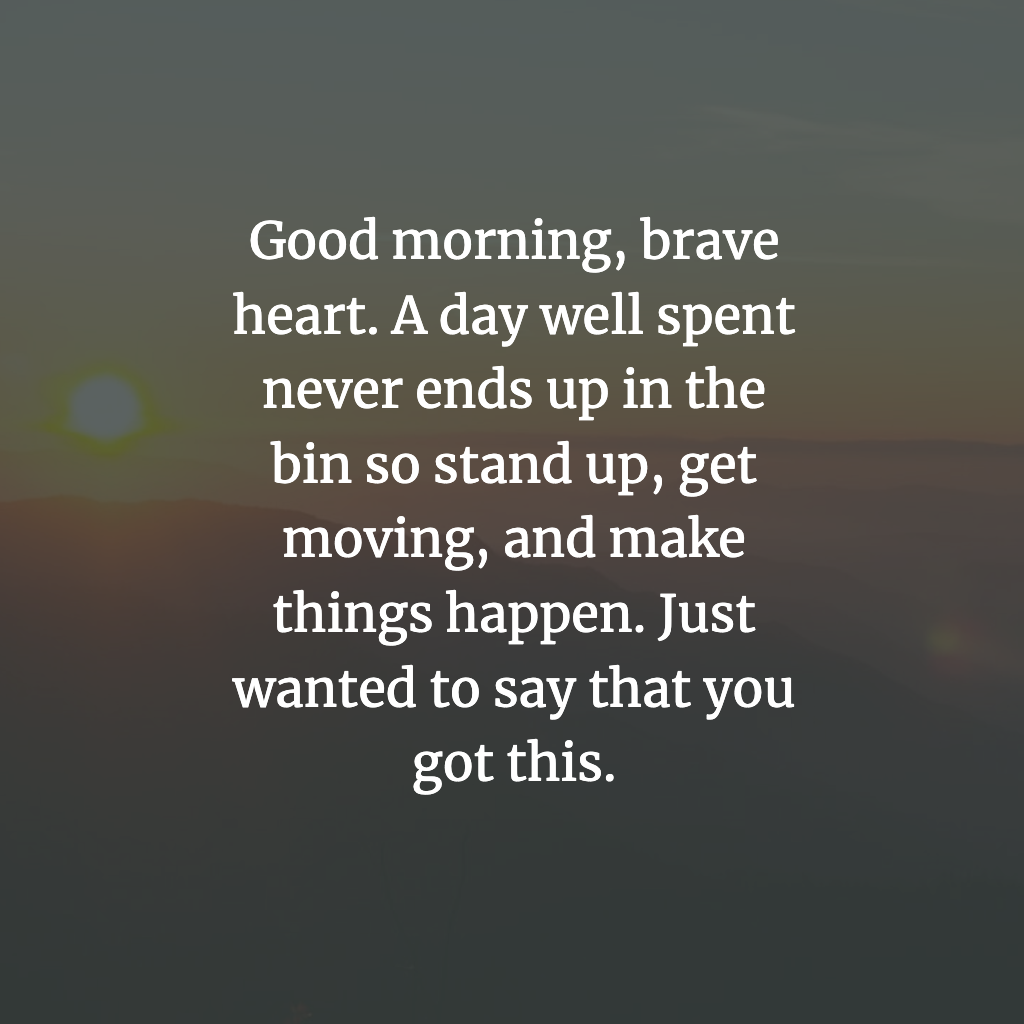 Good morning, brave heart. A day well spent never ends up in the bin so stand up, get moving, and make things happen. Just wanted to say that you got this.
Nightmares help us sometimes because when you wake up from a nightmare, you are relieved that everything's fine. However, waking up from a good dream can be disappointing. Good morning. Have a good day.
Good Morning. There are several thousand languages found in this world but there is only one universal language that is understood and spoken by everyone. It is called a smile. This is the only language that even a baby can speak and understand. So keep smiling because you look beautiful that way. Have a nice day.
Ups and downs are inevitable in life. Sun shines and rain falls. Don't worry if there is any troubling time because the sun and the rain make a rainbow after a troublesome thunder. Hope you will have a good day ahead. Good morning girl.
Good morning. You will find luck by your side when you will put all your struggles and efforts into your goal. So keep believing in yourself and step ahead to make your dreams a reality.
The universe will not burden you with more than you can handle. Have a successful day ahead and know that everything always works out in the end, provided that you are giving your 100 percent. Good morning and have a great day.
Good morning. Another day and the sun is rising. If you have not started your day with a smile yet, no issues. Start it now with a smile and you will have a nice day automatically. Hope you have a nice day.
Get things done because you are daring and spontaneous! Have a wonderful day and channel your energy toward things that need your attention the most.
Good morning. Living in happy and sad times is part of life. That, my girl, is the real art of living a life. Keep smiling, no matter what.
Opportunities exist in every corner, sometimes hidden and sometimes right in front of your eyes! Have a good day ahead and know that anything is possible if you trust yourself enough to make it happen. Have faith. Good morning
Good morning. Have faith in God and begin your day with positive vibes. Your day will become good automatically. Have a pleasant day ahead.
Good morning. When it seems the world is against you, be bold enough to charge ahead and tell yourself that you are capable to seize your moment. This is your day – make the most out of it.
Start and end your day by having a fun time and know that every problem gives you a lot to learn. It makes you stronger and more willing to live life the way you want. Good morning.
Good morning girl. Even if everything has been going wrong thus far, you will always have today to make things right. Have a blessed day and don't be afraid to start all over again.
A great day isn't necessarily extraordinary. Sometimes a calm, good day is enough to give you peace of mind. This in and itself is enough for you to call it a good day. This is what I hope you'll have today. Good morning!
Just wanted to say good morning. May you have a great day ahead. I know the times have been tough lately, and we are all taking it one step at a time. In any case, I hope that you find comfort and safety wherever you are.
Make Her Laugh With These Good Morning Messages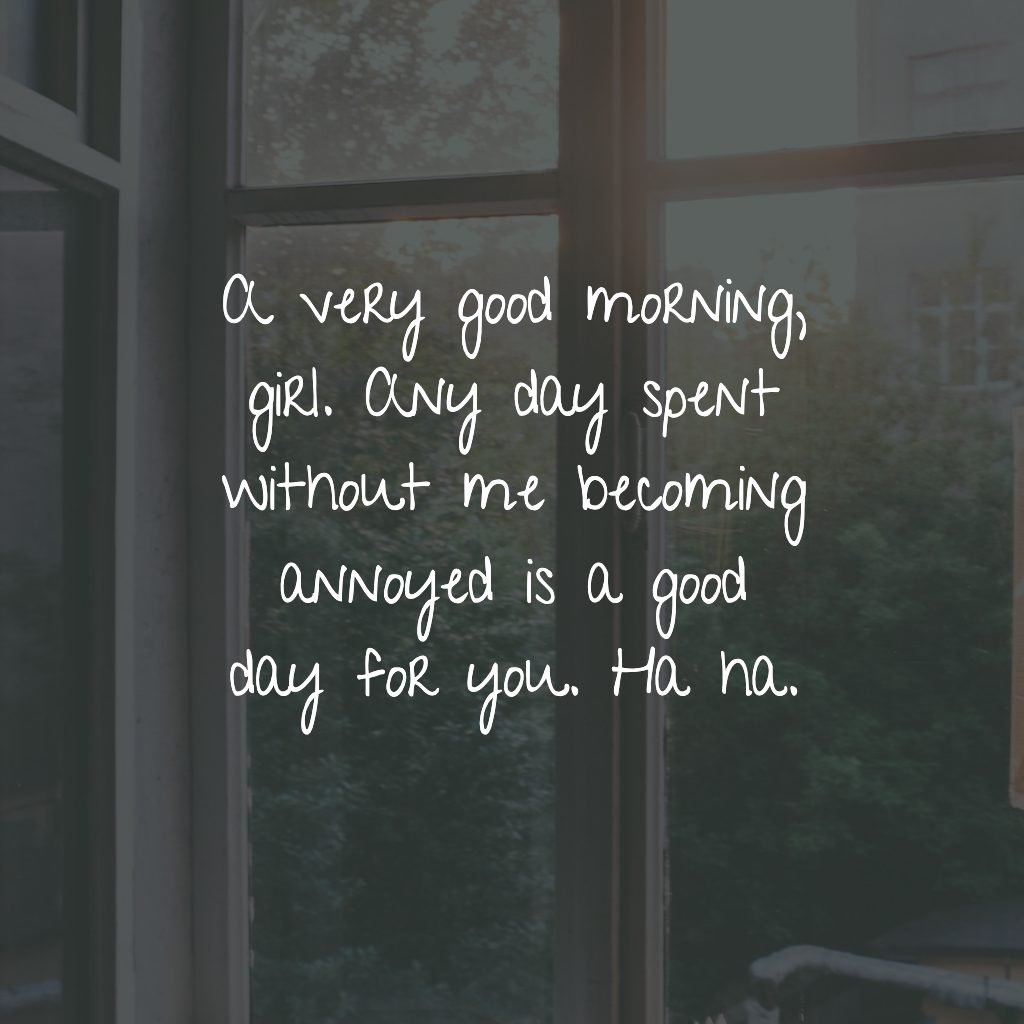 A very good morning, girl. Any day spent without me becoming annoyed is a good day for you. Ha ha.
I just wanted to disturb your sleep and say good morning. HA HA. Have a fun-tastic day ahead.
Whenever I read "Have a good day", I am stressed because it reminds me of the responsibilities ahead. Anyways, wish you a good day to remind you of your responsibilities early in the morning.
Just woke up from my good sleep and now I'm wondering why they call it so. I woke up looking like a raccoon. Good morning hun.
A good day? Not until I get to drink my coffee in peace.
It is Sunday today but this is when my week begins. I can't wait for the next weekend already.
As the sun rises, I am here to say good morning. May the day bless you with enough hassles that you start to miss your bed and blissful sleep. Good morning, haha haha.
Can you imagine that I woke up with a smile on my face today? Because it's Sunday today. Lol good morning.
We will never fight and argue, but I still can't recall that one good day we had. Ha ha good morning.
I sent you this morning message in the hope that you find your good mood, which I have lost btw.
Hey, good morning! I hope that today your facial muscles are sore from smiling and laughing too much. You may feel sore but you will feel the happiest today. This will be such a great day for you.
Why do they say 'good morning' as soon as they wake up when I can find nothing good about this morning? Oh, but I have you. He he, have an amazing day.
Maybe waking up is a penalty for all the fun you have during the night. Here I am wishing you a good morning so you can get through the penalty.
I consider morning as the devil and waking up moments as the pits of hell. It is so difficult to wake up early and go around saying good morning lol.
I hope you smile seeing my good morning message and then realize that it is not a weekend and you still have a long day at work. Ha ha ha, good morning.
Hope you have fun throughout the day. I could do the same, but I can't have fun and sleep at the same time. Accept my funny morning wish.
Lovely Good Morning Messages
Love someone for who they are. By doing so, you may realize that they are already what you need. These messages full of love will definitely bring a smile to her face right when her day starts.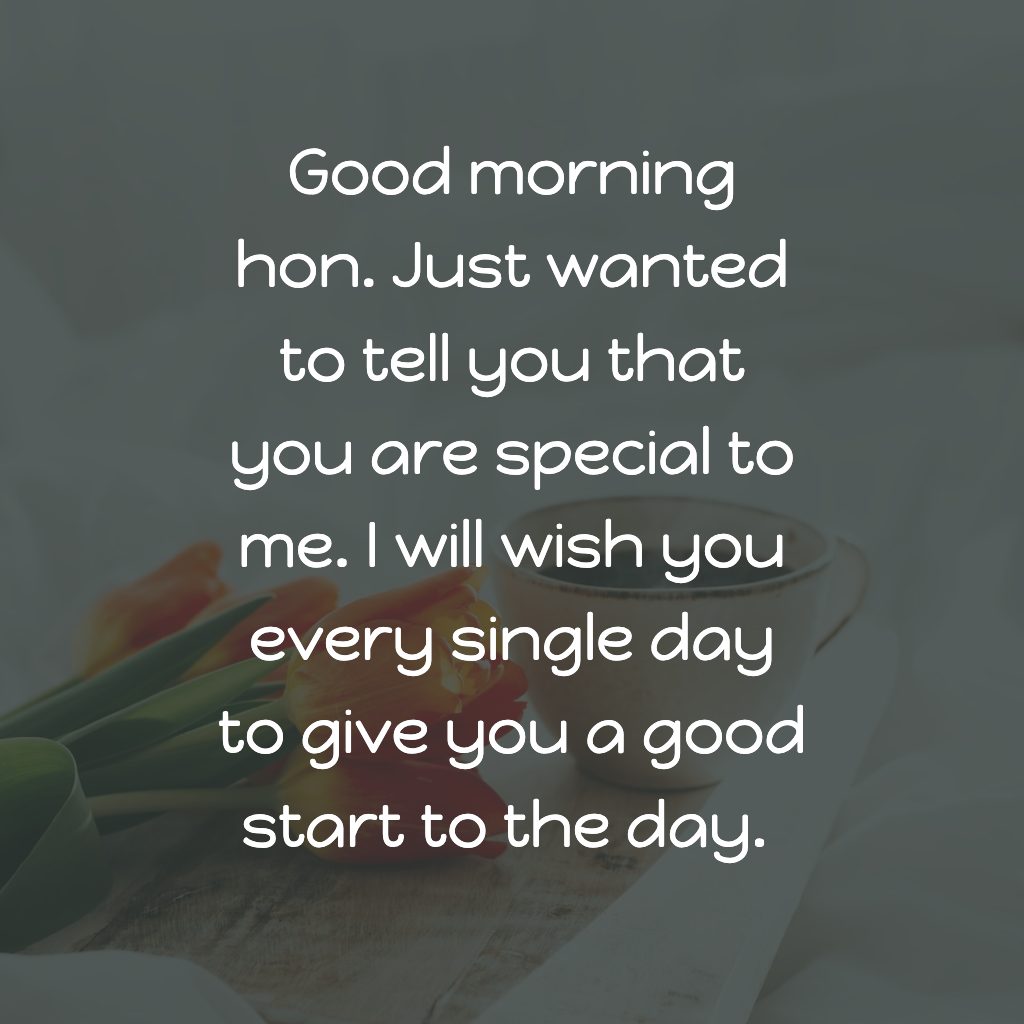 Good morning hon. Just wanted to tell you that you are special to me. I will wish you every single day to give you a good start to the day.
Your smile is the best ornament you can carry and I just want to start the day by telling you: 'I love you so much'. Good morning.
Good morning, baby! There is nothing more beautiful to wake up next to than you in the morning. You make my mornings so special.
Good morning, love. My day begins when I see and hear from you. I wish you a good day ahead and can't wait to hear back from you.
Good morning. You might not get a morning wish from me every day but know that I surely think of you before starting my day. Have a nice day today and always.
Good morning, sweetheart. I can't put into words how much I love you. Your presence around me makes all my days special.
Smiling is necessary for our faces. Love is necessary for our hearts. Respect is necessary for our behavior. Education is necessary for our future. A good friend is necessary for your life. Have a nice day ahead. Good morning.
Good morning, baby. I want to confess how you make my heart beat faster. It makes me look forward to the day. Can't wait to meet you!
Two things I want to tell you when your day is starting: I love you and have a very nice day.
Good morning, my love. You make me believe in love and I am so grateful to have you. Have a great day.
Today I want to confess that I love you and you mean everything to me in this whole wide world. Good morning, sweetheart. Keep Smiling
The first thing that I just wanted to let you know in the morning is that I love you and would do everything it takes for me to make you happy. Good morning, lovely.
Good morning. Wishing you a lovely day. You are the shining star of my life, don't ever forget that.
Begin the day with a smile on your face. You look beautiful with that smile. Good morning.
Good morning, I hope you slept well and woke up well. I can't wait to see you.
Every day waking up next to you makes my day complete. Have a great day, my love.
A single person who stands by you in your bad times is better than a hundred people clapping for your success. Remember that I am always there for you, irrespective of good or bad times. May you have a very good morning.
Good morning, darling. Just a thought of you makes my day get better. Have a great day.
Do you want to know how much I love you? Wake up right away to meet me. Very good morning, my love.
Good morning, sweetheart. Every morning when I find you next to me, I feel that there are no bad days in my life anymore.
I share my first moments of the day with you and this is how I have a perfect start to the day. Good morning, love.
Good morning, sweetie. I just wanted to say thank you for making every single moment so blissful with your presence.
The beautiful thing about waking up is seeing your face. I want to keep seeing you next to me until the last breath of my life. Have a great day, my love.
Good morning, love. You make every day of mine special. Thanks for being there for me. Love you so much.
Have a new morning by forgetting the past. Wake up and have a wonderful day.
Good Morning Messages About Work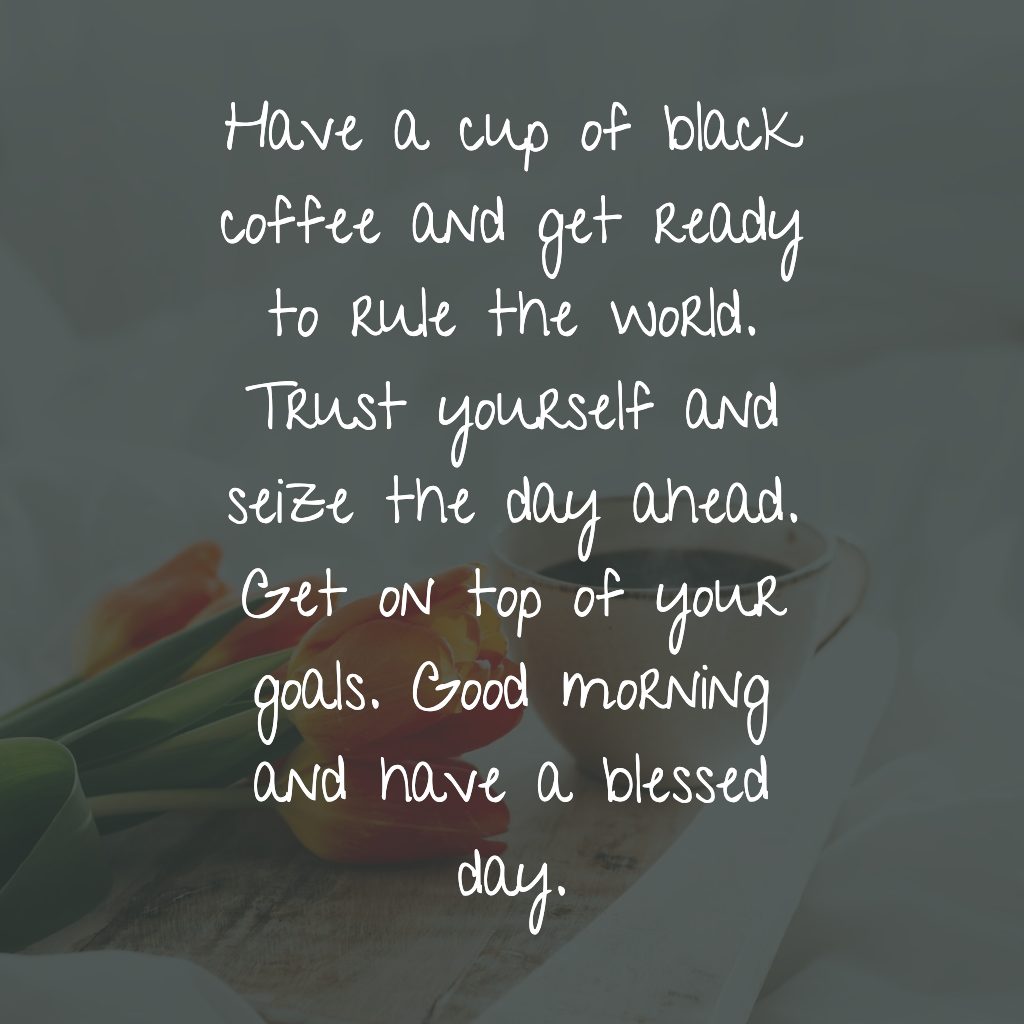 Have a cup of black coffee and get ready to rule the world. Trust yourself and seize the day ahead. Get on top of your goals. Good morning and have a blessed day.
Good morning. A new day is here. Begin with new hopes because every new day brings new opportunities that you never even thought of. Go ahead, grab the opportunities, and seize success.
Good morning and have a good day at work. Do not respond to rude and hateful people because your response makes them stronger. You don't have time to waste on them.
Good morning you sweet person. May God bless you with the best. May your life be full of heavenly happiness. Hope you will have a good day at work.
Keep smiling. All you need is to trust in yourself to achieve your dreams through your efforts. Good morning and have a very good day ahead.
Hey. Just want to wish you a very good morning. May God bless you with His best and make your life heavenly. Hope you will have a good day at work.
Don't let your dream day waste for no reason at all. Emit positive vibes and let them reflect on your day ahead at the office.
I just wanted to say good morning and make this day the best one for you. Be less worried and go with the flow at work. What seems harder is sometimes more rewarding. Be bold enough to take the challenge today and nail the day.
As the day begins and so do the challenges you will face at work today. Here's to wishing an awesome day to an even more awesome girl like you. Good morning.
Our life has numerous moments of stillness between the hustle and bustle. Each and every day of our life starts with the clock ticking, the phone buzzing, and the alarm sound warning us that it is time to move on with the day with dozens of tasks to take care of.
We live in these moments every single day. Let's make it worth living and have moments and mornings where we can simply be sweet and kind to those we love. Selecting good morning messages for her and sending them might make her stop for a moment, smile, and help her have the best day.
Tips & Suggestions
Before you send her good morning texts, make sure they are appropriate according to your relationship with her. If you have a platonic relationship, make sure you do not get overboard. Most of these texts are for someone whose love and energy match yours and its mutual.
Moreover, even if you two ever fight the night before and you didn't wish her a Good night message then do not forget to wish her good morning. People fight in relationships, and it doesn't mean you should negate all your feelings for her. Put your ego aside and wish her a good day so she can focus on it well.
She will also look forward to your morning messages and will send you one as well. Cherish these lovely morning moments.
I hope you like these text messages. This list will keep you busy for a while so bookmark it for later. And make her thank her lucky stars that someone like you stepped into her life. Have a great day!