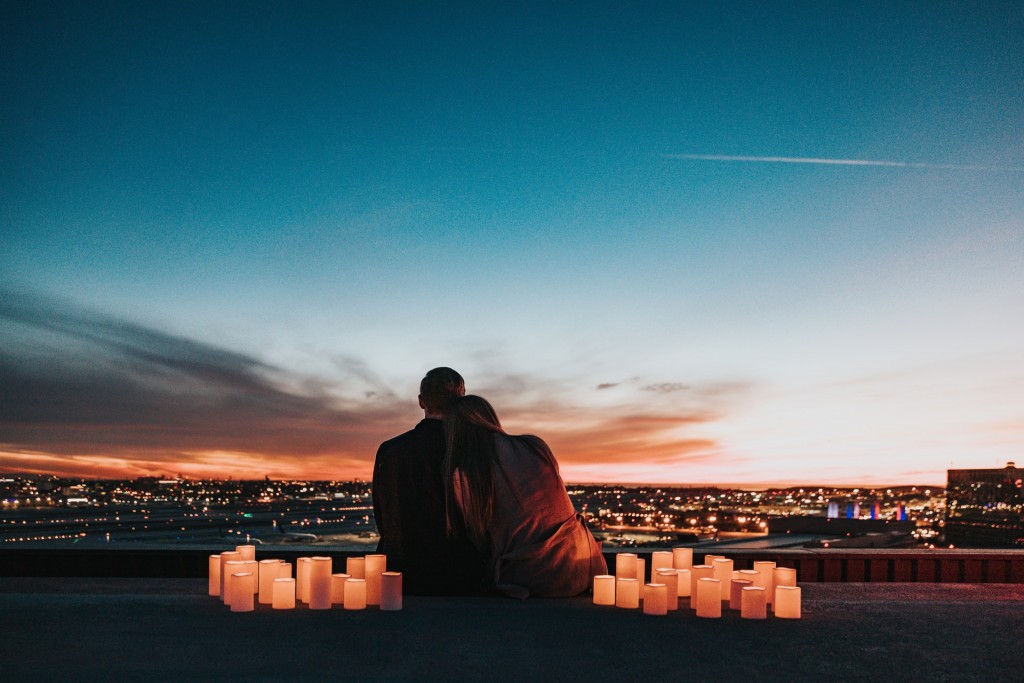 True love is when you love someone for who they are and not for their looks or how they act. True love takes time to grow and must be nurtured.
It's important that you convey your love and feelings in the best way possible to nurture your love. Here we have collected some of the best love quotes to help you express your true feelings.
Short Romantic Love Quotes
Share these lovely short-liners with your soulmate, partner, and companion to make them feel special. Grab yourself a card, and pen these short quotations along with a bunch of roses to make your moment more special.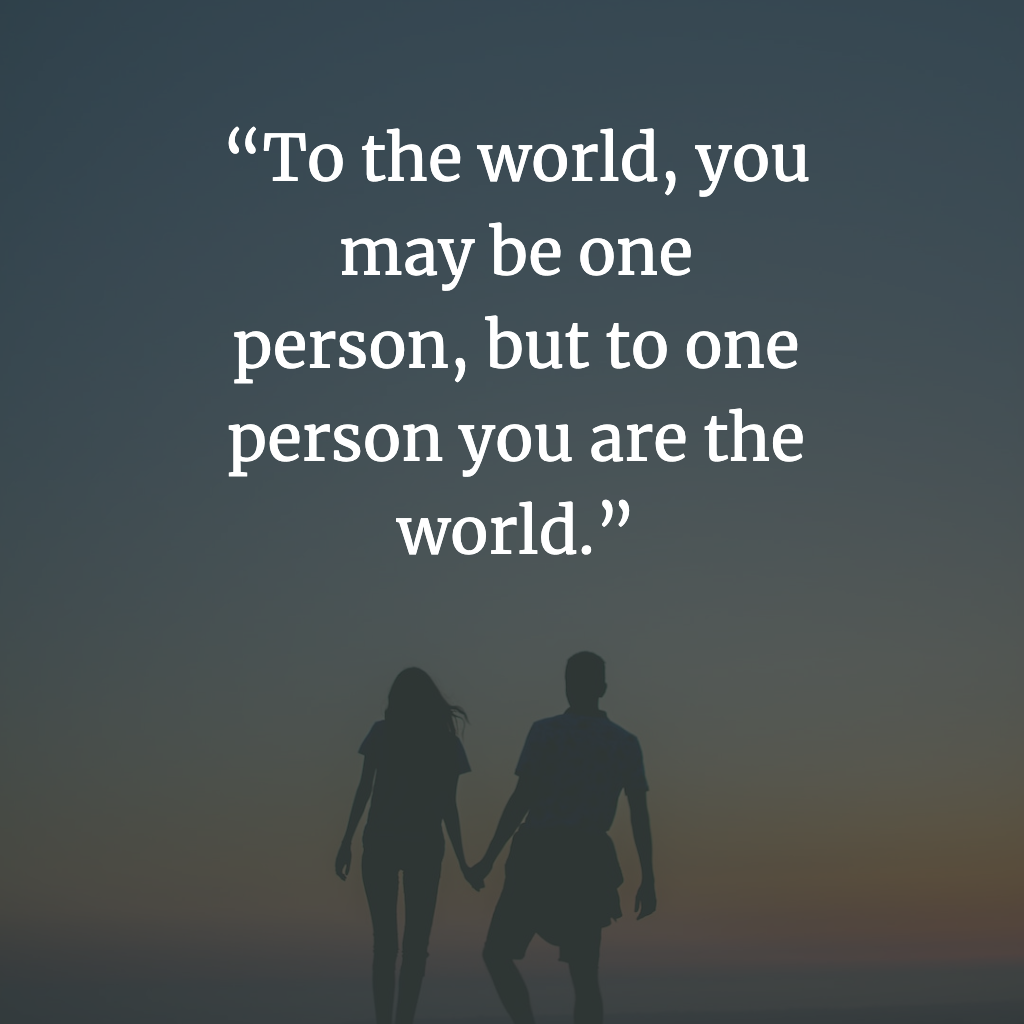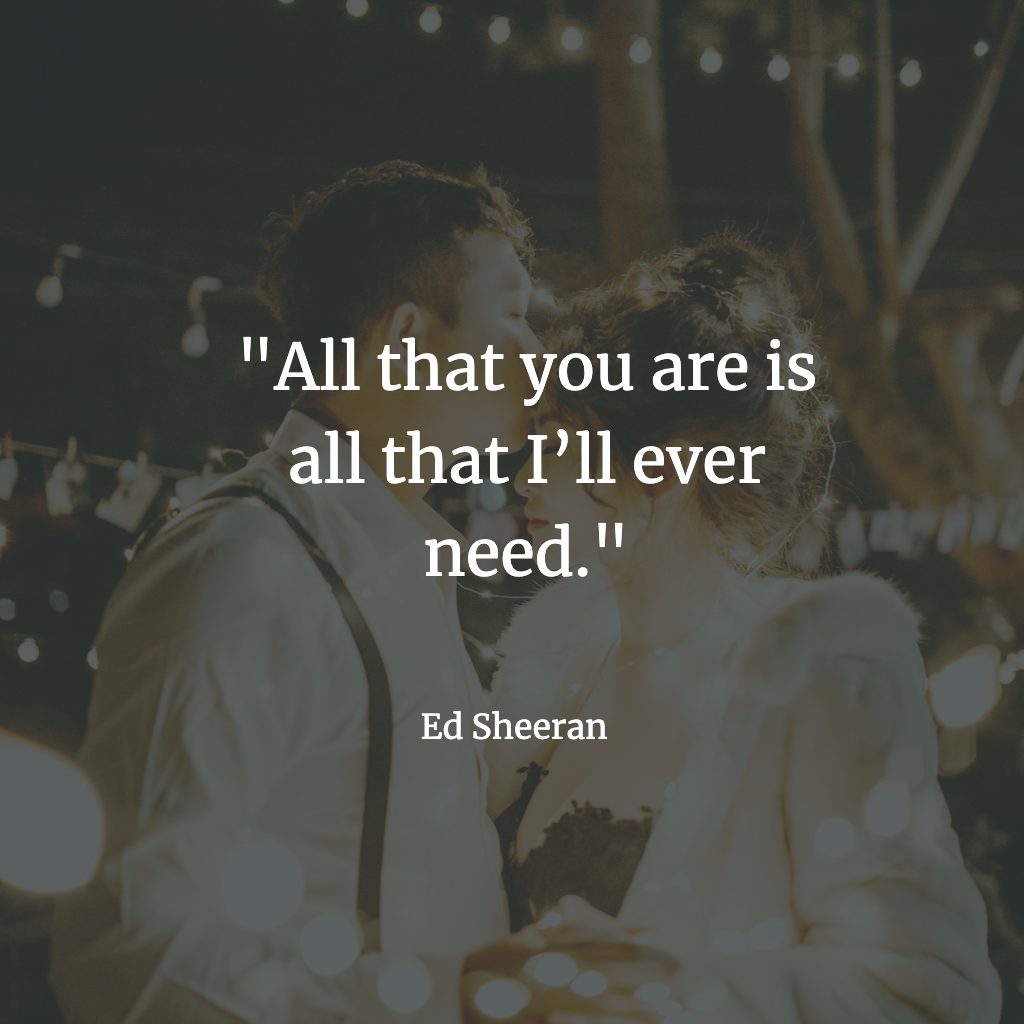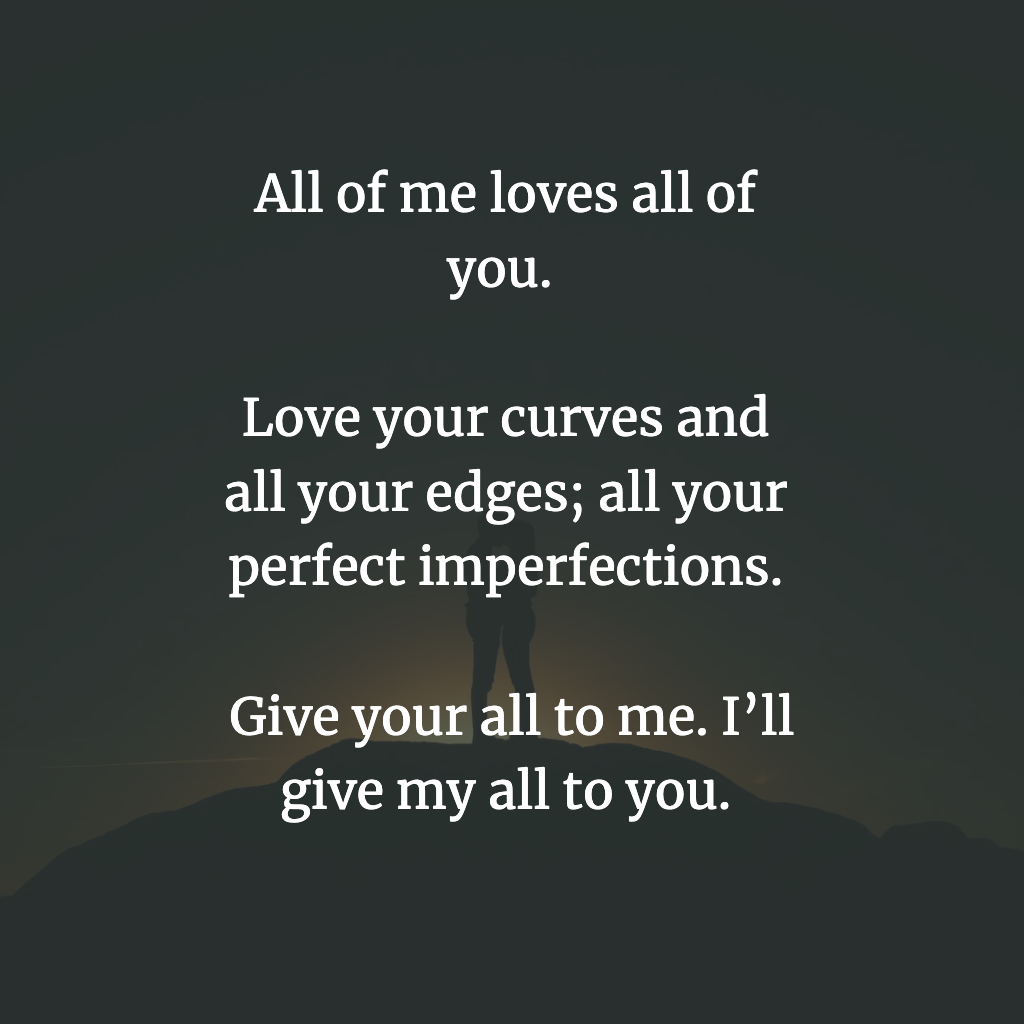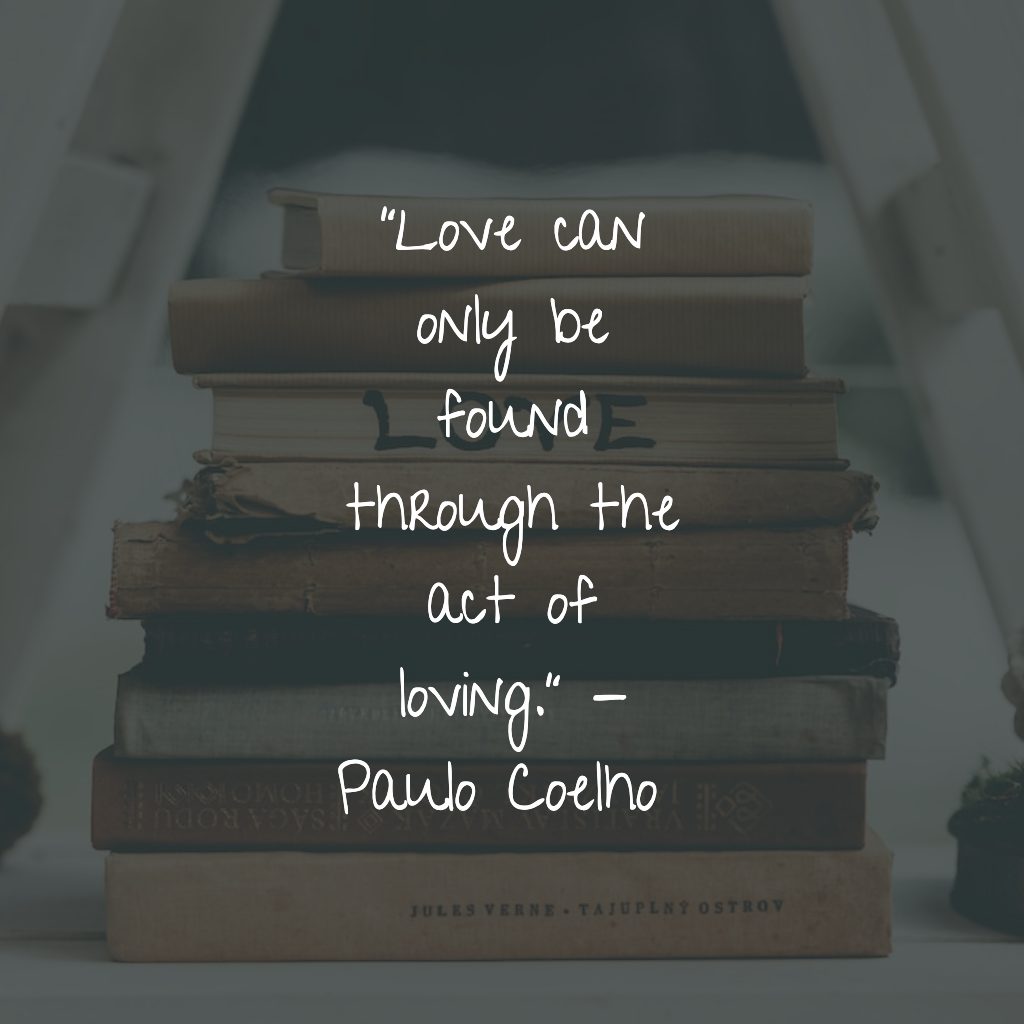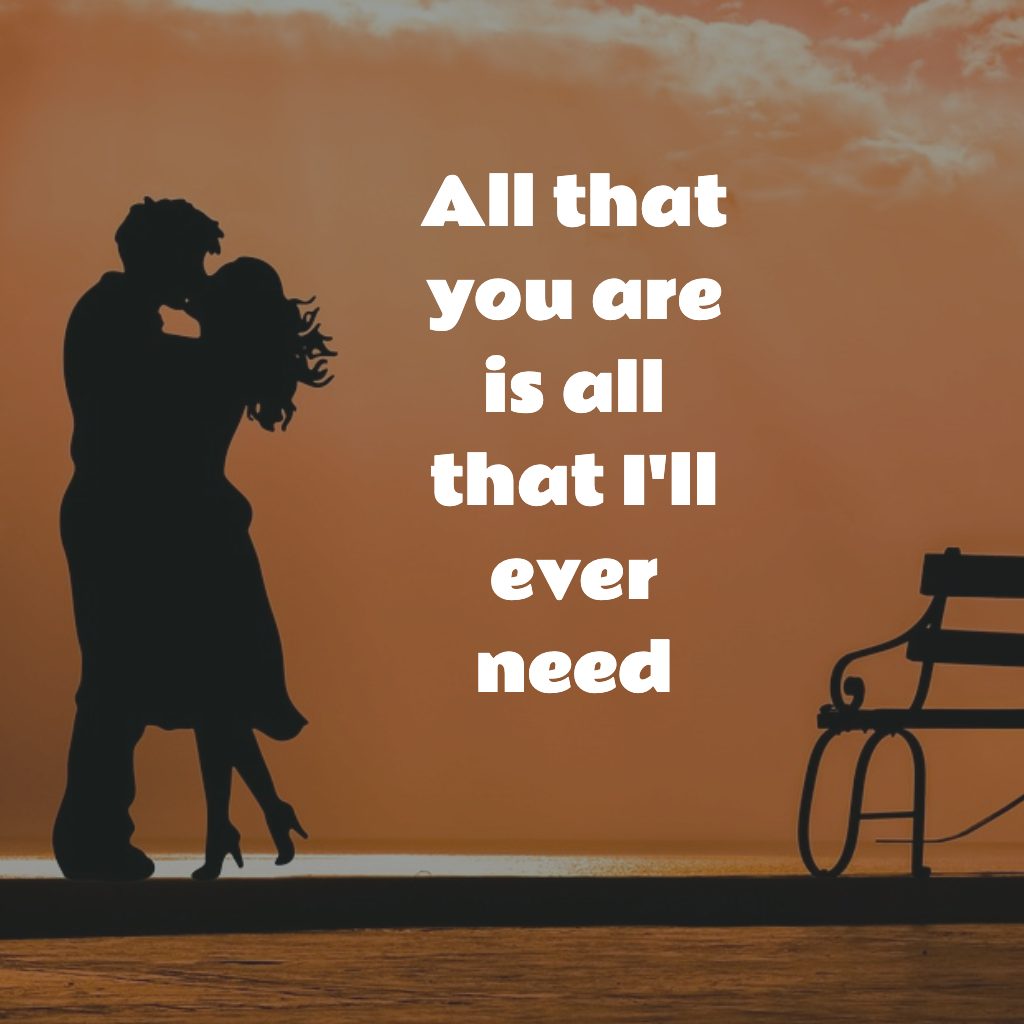 "I love you and that's the beginning and end of everything." - F. Scott Fitzgerald
"I would rather spend one lifetime with you, than face all the ages of this world alone." - J.R.R. Tolkien
"If I know what love is, it is because of you." - Hermann Hesse
"So, I love you because the entire universe conspired to help me find you." ― Paulo Coelho
"My heart is and always will be yours." – Jane Austen
"You are my heart, my life, my entire existence." – Julie Kagawa
"Your love shines in my heart as the sun that shines upon the earth." – Eleanor Di Guillo
"You have robbed me of all heart and mind and I love you, sweet bandit of my soul" - Atticus
"To the world, you may be one person, but to one person you are the world." — Dr. Seuss
"You should be kissed and often, and by someone who knows how." - Margaret Mitchell
"If I had to choose between breathing and loving you I would use my last breath to tell you I love you." – DeAnna Anderson
"To live without loving is to not really live." - Molière
"The ring of fire still burns around you and I, keeping our love hotter than a pepper sprout." -Johnny Cash
"Every new encounter is a chance for love to meet itself again." - Drew Gerald
"Better than I was, more than I am, and all of this happened by taking your hand." — Tim McGraw
"I seem to have loved you in numberless forms, numberless times, in life after life, in age after age forever." – Rabindranath Tagore
"If the sun refused to shine, I would still be loving you. When mountains crumble to the sea, there will still be you and me." - Led Zeppelin
"With a heart like that, you deserve the world." - R. M. Drake
"My love for you is past the mind, beyond my heart, and into my soul." – Boris Kodjoe
"Everyday I discover that I love you even more, and in this infinite universe I will love you till the ends." – Alicia N Green
"After all soul mates always end up together" - Rosie Dunne
"Distance means so little when someone means so much." — Tom McNeal
"If nothing saves us from death, at least love should save us from life." - Pablo Neruda
"True love stories never have endings" - Richard Bach
"If you love somebody, let them go, for if they return, they were always yours. If they don't, they never were." - Khalil Gibran
"What is done in love is done well." - Vincent Van Gogh
"I have learned not to worry about love; but to honour it's coming with all my heart." - Alice Walker
"The best thing to hold on to in life is each other" - Audrey Hepburn
"Life is the flower for which love is the honey" - Victor Hugo
"People destined to meet will do so, apparently by chance, at precisely the right moment." - Ralph Waldo Emerson
"Do you believe in destiny? That even the powers of time can be altered for a single purpose?" - Bran Stoker
"Life without love is like a tree without blossoms or fruit." — Khalil Gibran
"Love takes off masks that we fear we cannot live without and know we cannot live within."— James Baldwin
"…true love is never blind, but rather brings an added light." - Phoebe Cary
"Love is of all passions the strongest, for it attacks simultaneously the head, the heart, and the sense." - Lap Tzu
"Love is composed of a single soul inhabiting two bodies" - Aristotle
"Sometimes the heart sees what is invisible to the eye." - H. Jackson Brown, Jr.
"True love stories never have endings." - Richard Bach
"Love brings to life whatever is dead around us." – Franz Rosenzweig
"The very essence of romance is uncertainty." - Oscar Wilde
"Lost with you, in you, and without you." — K. Towne Jr.
"Romance is thinking about your significant other, when you are supposed to be thinking about something else." - Nicholas Sparks
"Love is the question, the answer, and everything in between." - Connor Chalfant
"True love is like ghosts, which everyone talks about and few have seen." - François de la Rochefoucauld
Short Intimate Love Quotes
Do you recall John Legend's song "All of Me" lyrics?
"All of me loves all of you. Love your curves and all your edges; all your perfect imperfections. Give your all to me. I'll give my all to you."
Isn't it just a perfect way to express your intimacy with the soul of your life? Scroll through quotations below, pick up the best ones, light up a candle, some soft music, and dance and there you go- express yourself.
"I never want to stop making memories with you" - Pierre Jeanty
"I do love nothing in the world so well as you - is not that strange?" - William Shakespeare
"A sky full of stars and he was staring at her" - Atticus
"I wish I'd done everything on earth with you" - F. Scott Fitzgerald
"You know it's true. Everything I do, I do it for you." -Bryan Adams
"If I were the moon, I would want you to be my night" - Alexandra Vasiliu
"Two hearts in love need no words." - Marceline Desbordes Valmore
"When I look at you, I can feel it. I look at you and I'm home." - Dory
"Morning without you is a dwindled dawn." — Emily Dickinson
"Soul meets soul on lovers' lips." - Percy Bysshe Shelley
"Your hand touching mine. This is how galaxies collide." - Sanober Khan
"Each time you happen to me all over again." - Edith Wharton
"The heart is an arrow. It demands aim to land true." - Leigh Bardugo
"I fell in love the way you fall asleep. Slowly, and then all at once." — John Green
"The sight of lovers feedeth those in love." - William Shakespeare
"Maybe the way you love changes from person to person." ― Kheryn Callender
"Two hearts can enlighten the whole world." - Sir Kristian Goldmund Aumann
"I could start fires with what I feel for you." — David Ramirez
"When all my dreams come true, the one I want next to me, it's you." - Lucas
"The bottom line is you don't have to understand something to like it, and you don't have to understand someone to like them." - Shelley Brown
"Each day I love you more, today more than yesterday and less than tomorrow." – Rosemonde Gerard
"Hear my soul speak. Of the very instant that I saw you, did my heart fly at your service." - William Shakespeare
"A view of the ocean, mountains and the sunset. But yet, he was still looking at me." — Aly Aubrey
"Do I love you? My god, if your love were a grain of sand, mine would be a universe of beaches." - William Goldman
"Every atom of your flesh is as dear to me as my own: in pain and sickness it would still be dear." - Charlotte Bronte
Short Quotes on Attachment in Love
Are you fond of your soulmate and they mean the world to you?
Express your unbreakable attachment just as Brad Paisley did: "Now you're my whole life. Now you're my whole world… We'll look back someday, at this moment that we're in and I'll look at you and say, 'and I thought I loved you then."
Quotations below will definitely give your sweetheart tears of joy:
"Promise me we'll always be this free, dancing for eternity, underneath a galaxy of stars." - Christy Ann Martine
"You can't blame gravity for falling in love." - Albert Einstein
"You look like the rest of my life" - Beau Taplin
"All that you are is all that I'll ever need" -Ed Sheeran
"Some people are worth melting for." - Olaf
"He's more myself than I am. Whatever our souls are made of, his and mine are the same." - Emily Bronte
"I would find you in any life time" - Kanye West
"Never close your lips to those whom you have already opened your heart." - Charles Dickens
"Deep in my soul I know that I'm your destiny." - Raven Symone
"You look good wearing my future" - Keith Nelson
"There is a madness in loving you, a lack of reason that makes it feel so flawless." — Leo Christopher
"My soul will find yours." - Jude Deveraux
"When someone else's happiness is your happiness, that is love." - Lana Del Ray
"My heart only ever had one thought, one want. One need. Despite all, in spite of all... All my heart has ever wanted is you." -Stephanie Laurens
"No matter where I went, I always knew my way back to you. You are my compass star." — Diana Peterfreund
"Absence is to love as wind is to fire; it extinguishes the small and kindles the great." — Roger de Bussy-Rabutin
"I still haven't figured out how to sit across from you, and not be madly in love with everything you do." — William C. Hannan
"I like to believe that love is a reciprocal thing, that it can't really be felt, truly, by one." - Sean Penn
"You will never be lost in your lives if you rely on the love you have embraced and the love which embraced you." - Lili Naghdi
"The scariest thing about distance is you don't know if they'll miss you or forget about you."— Nicholas Sparks
"You know you're in love when you can't fall asleep because reality is finally better than your dreams." - Dr Seuss
"Although we would prefer to tame it, love is less a nice idea and more a commitment to embracing love as far too massive to simply be a nice idea." ― Craig D. Lounsbrough
"No matter what challenges might carry us apart, we will always find a way back to each other." - Leo Tolstoy
"By my soul, I can neither eat, drink, nor sleep; nor, what's still worse, love any woman in the world but her." - Samuel Richardson
"I came here tonight because when you realise that you want to spend the rest of your life with somebody, you want the rest of your life to start as soon as possible." -Harry Burns
Short Lovey-Dovey Adoration Quotes
Life is very beautiful with your adorable lover around. Every moment spent together is cherished. This is how the bond grows stronger as the collected quotes describe:
"I love you not only for what you are, but for what I am when I am with you" - Roy Croft
"Because I love you, I will find a way to be your light, even when I am at my darkest" - Jessica Katoff
"To love and be loved is to feel the sun from both sides." - David Viscott
"At the touch of love everyone becomes a poet." - Plato
"To be fully seen by somebody, then, and to be loved anyhow- this is a human offering that can border on miraculous." - Elizabeth Gilbert
"The best love is the kind that awakens the soul and makes us reach for more, that plants a fire in our hearts and brings peace to our minds." - Nicholas Sparks
"You are the finest, loveliest, tenderest, and most beautiful person I have ever known-- and even that is an understatement." - F. Scott Fitzgerald
"You don't love someone because they're perfect, you love them in spite of the fact that they're not." ― Jodi Picoult
"It's delightful when your imaginations come true, isn't it?" - L.M. Montgomery
"Let us always meet each other with smile, for the smile is the beginning of love." - Mother Teresa
"You are not a drop in the ocean. You are the entire ocean in a drop." - Jalaluddin Rumi
"When someone loves you, the way they talk about you is different. You feel safe and comfortable." - Jess C. Scott
"You know what charm is: a way of getting the answer yes without having asked any clear question." - Albert Camus
"Though the heart cannot be seen, it can be kind, pure, compassionate and loving." - Master Jun Hong Lu
"Those who give love freely will always have an abundance of love in their lives." - Wayne Gerard Trotman
"Love is the sweetest nectar spread onto life's experiences. It can change everything." - Steve Leasock
"Love is a canvas furnished by nature and embroidered by the imagination." -Voltaire
"More than kisses, letters mingle souls." - John Donne
"You are my love story, and I write you into everything I do, everything I see, everything I touch and everything I dream, you are the words that fill my pages." – A.R Asher
"Love can only be found through the act of loving." - Paulo Coelho
"Love must be as much a light as it is a flame." - Henry David Thoreau
"The most important thing in life is to learn how to give out love, and to let it come in." — Morrie Schwartz
"I know by experience that the poets are right: love is eternal." -E.M. Forster
"Where your treasure is, there will be your heart also." - J. K. Rowling
"But love doesn't make sense. You can't logic your way into or out of it. Love is totally nonsensical. But we have to keep doing it or else we're lost and love is dead and humanity should just pack it in. Because love is the best thing we do." - Ted
Short Quotations for Affectionate Feelings
Do you remember the movie Pride and Prejudice? In which Mr. Darcy proposes to Elizabeth? Darcy's all-time famous proposal went something like this:
"In vain I have struggled. It will not do. My feelings will not be repressed. You must allow me to tell you how ardently I admire and love you."
His feelings were heart-felt and genuinely expressed. The quotations below will have your Elizabeth melt quickly.
They are short and poignant quotes from authors, poets, and philosophers in love to help you express your feelings. Your heart will definitely skip a beat reading them.
"To love is to burn, to be on fire." - Jane Austen
"My love is selfish. I cannot breathe with you." - John Keats
"I love you right up to the moon and back." - Sam McBratney
"If forever does exist, please let it be you…" – A.R Asher
"I love you wildly, insanely, infinitely" - Boris Pasternak
"I know no ways to mince it in love, but directly to say 'I love you.'" - William Shakespeare
"I ask you to pass through life at my side-to be my second self, and best earthly companion." - Charlotte Bronte
"Three words. Eight letters. Say it, and I'm yours." - Blair Waldorf
"You gave me a forever within the numbered days, and I'm grateful." - John Green
"If you ever have need of my life, come and take it." - Anton Chekhov
"We loved with a love that was more than love" - Edgar Allan Poe
"I feel this gravitational pull towards you, like the universe & and all the galaxies, had a talk and said "yeah, it's time" - Gawn Birdie
"You my fairytale my book to never finish; let me linger in your pages a little ever longer." - Atticus
"I got lost in him, and it's the kind of lost that's exactly like being found." - Claire Lazebnik
"Because of you I can feel myself slowly but surely becoming the me I have always dreamed of being." - Tyler Knott Gregson
"I love you without knowing how, or when, or from where. I love you simply, without problems or pride." – Pablo Neruda
"Love makes your soul crawl out from its hiding place." - Zora Neale Hurston
"It was love at first sight, at last sight, at ever and ever sight." - Vladimir Nabokov
"Every great love starts with a great story..." - Nicholas Sparks
"I swear I couldn't love you more than I do right now, and yet I know I will tomorrow." — Leo Christopher
"What a grand thing, to be loved! What a grander thing still, to love!" - Victor Hugo
"Loving her comes to me as naturally as writing, I never make an effort, she is a part of my identity." - Nitya Prakash
"Love is inherently intense. Intensity is an aspect of love itself, not a function of love's volume." - Lili Naghdi
"Love stands even when the desire to love doesn't." ― Craig D. Lounsbrough
"I loved her against reason, against promise, against peace, against hope, against happiness, against all discouragement that could be." - Charles Dickens
Are you not on cloud nine when your sweetheart is happiest around you? This is how a lovey-dovey duo lives and cherishes the days together for all the times to come.
All you need is to just let them know how important they are with a smile and hug which will go a long way. You may fondly speak in your sweetheart's ear and brush his/her worries away. Nonetheless, we have you covered with short love quotations to keep your tender spirits high.
We hope you cherish your romantic and intimate moments by expressing yourself passionately and charmingly with the short love quotations collected for you.