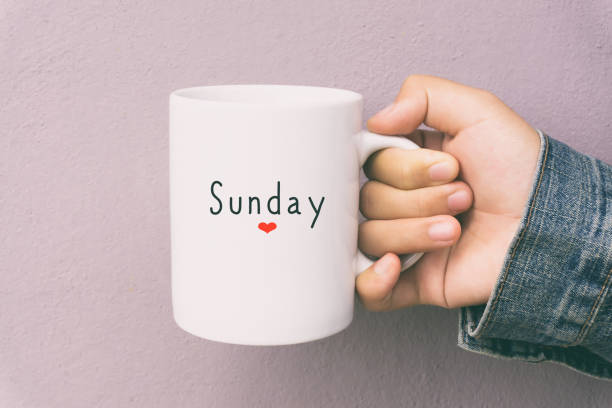 Sunday is a fun, warm, and cozy day where we want to be in our pajamas all the time. This is one of the significant days of the week to lift your spirit and boost your energy levels.
"Sunday is my favourite day"

Emma Caulfield
Sunday Happiness Comes in Many Forms
Putting fresh sheets on the bed
Making time to watch your favorite movie or TV season
Disappearing under a blanket to read
Cooking a nice meal
Seeing a friend
Having something to look forward to throughout the day helps you through and raises your positivity levels. You might not even need to spend money to have fun on Sundays. Instead, go for a walk in the local park, catch up with your loved ones, or go to free events in your local area.
The quotations below will not only make your Sunday blessed but the tips are also written to make sure you make the most of your end of the week.
Happy Sunday Quotes
You need time away from your Monday-to-Friday routine to relax and switch on happy vibes.
"Start this Sunday with a clean heart. No doubt, no tears, no fear no worry. Thank God for his priceless gifts and miracles through the world."

Anonymous
"On this lovely Sunday, remember to take a deep breath and relax. Enjoy your family, your friends, and indulge yourself in a nice cup of coffee."

Anonymous
"Wake up, Spread happiness and sparkle with positive vibes."

Anonymous
"It's a beautiful Sunday morning and a great opportunity to thank the Lord for reminding us how blessed we are."

Anonymous
"Enjoy your Sunday! Have faith in your heart and courage to fulfil all your dreams."

Anonymous
"Dance in the rhythm of life and enjoy all that this world has offered you. Happy Sunday!"

Anonymous
"Sunday is a time when you sit back and reflect on all the blessings that you have received. Smile at all the good things that you are enjoying."

Sara Terain
"It's Sunday! Find harmony with yourself and the outer world and spend this day brightly."

Anonymous
"Sunday: Take it slow. Give your soul a chance to catch up with your body."

Anonymous
"Sunday is your best day. You know you had an amazing week. Time to recover and think how you gonna kill the next one."

Anonymous
"Sunday is a wonderful day to spend in the circle of your family and friends. You can set the mood for the whole week today!"

Anonymous
"Sunday is a special day, unique in its own way, with lots of enjoyment and fun. May you have a delightful Sunday so that you are energised for the coming week."

Anonymous
"A Sunday well-spent brings a week of content."

Anonymous
"Meet your family and friends and spend each second of this day enjoying the beauty that surrounds you."

Anonymous
"Sundays tend to be a day where just I do nothing but visit people. It's kind of like trick-or-treating."

Chuck Plahneuk
"Sunday is an excellent chance to start living your life to the fullest, do what you want, and forget about consequences. Enjoy your Sunday!"

Anonymous
"Let this Sunday be a rainbow for the entire upcoming week!"

Anonymous
"Hope your weekends be fill of sun and relaxation."

Anonymous
"You cannot have the beginnings of a productive week without a Sunday spent in the calmness of the day"

Byron Pulsifer
"Free yourself from all prejudices and let yourself go on Sunday."

Anonymous
"Surround yourself with positive people and let their bright emotions make your Sunday unforgettable."

Anonymous
"Let this Sunday morning bring you lots of smiles, and you will leave all of last week's troubles behind you."

Anonymous
"Happy Sunday and go to the beach!"

Anonymous
"Sunday on the beach, having seashells in the pocket, sand in the shoes, was the day to refuel our souls and be grateful to the blessings"

Anonymous
"Let today's stellar atmosphere help you to reach new heights."

Anonymous
"Today is Sunday, so please conduct yourself accordingly. Sleep in, sip tea, lay around in your pyjamas, listen to good music, and indulge yourself in an afternoon nap."

Anonymous
"Sundays are for warm evening, cuddling and flavoured tea. Happy Sunday you all."

Anonymous
"Incredible bliss and delight - may these be your goals this Sunday evening."
"A productive Sunday is the Sunday when you have felt and learned something new. Have a marvellous Sunday evening!"

Anonymous
"Let go of all the worries and anxiety in order to be light and free. May your Sunday ends on happiness."

Anonymous
"Today is Sunday, so please conduct yourself accordingly. Sleep in, sip tea, lay around in your pajamas, listen to good music, and indulge yourself in an afternoon nap."

Anonymous
"Sunday is the day when I prepare for the week ahead by making improbable To Do lists and browsing Pinterest for ideas on how to decorate my imaginary mansion."

Nanea Hoffman
"The goal of Sunday is to leave my home as little as possible."

Mark Morris
"Have a great Sunday! Experience life in all possible ways: good-bad, bitter-sweet, dark-light, summer-winter. Experience all the dualities. Don't be afraid of experience, because the more experience you have, the more mature you become."

Osho
"Sunday's my day off, where I eat whatever I want. I don't let myself have something. I do love French fries and bread."

Ashley Tisdale
"Oh, dear Sunday, I want to sleep in your arms and have a fun day."

Anonymous
"Sunday, the day for the language of leisure."

Elfriede Jelinek
"Saturdays are for adventures, Sundays are for cuddling."

Anonymous
"SUNDAY – The day I planned a lot but actually do nothing"

Goyal
"My Saturday was going pretty well until I realised it was Sunday."

Anonymous
"Sunday is here already. Now, where is the remote to hit the rewind button."

Anonymous
"It's Sunday, therefore I am 100% motivated to do nothing today!"

Anonymous
"I feel like I should clean the house, so I'm going to lay down and nap until that feeling passes."

Anonymous
"Sunday clears away the rust of the whole week."

Anonymous
"Three of the worst words to hear: Tomorrow is Monday"

Anonymous
Ideas For Your Sundays
On weekend we have free time. Most of us just waste time but it can be used productively in many ways. You can rest and recharge and do a lot of other stuff. Here we are gonna share some interesting ideas and things you can do on your weekends.
House Chores: You may as well think to do things that you wouldn't usually have time for, such as odd jobs in the house or catching up with your family, relatives, or grandparents.
Donate Blood: On one of those Sundays, you can donate blood or make an appointment to donate blood later in the week. You might save a life. This is one of the purest ways to be grateful for God's priceless gifts to you.
Visit Your Favorite Place: Make the time to head to your favorite spot and let every one of your senses take its fill. Whether it's a broad walk, your favorite retail store, a nearby book store, or anywhere in between, if you allow it to be your happy place, it will help you restore much-needed energy to fulfill your dreams ahead.
Plant a tree: Whether you physically plant the seed or make a donation for it. You can rest assured knowing that you have added more beauty and life to the world.
Help people around you: You can go the extra mile on one of your Sundays when you offer to help a neighbor shovel snow or do yard work. Do something special for a neighbor friend to let them know how much you value their friendship. Roll up your sleeves and show the world what you have got.
Help elderly: Drop off dinner or groceries to an elderly relative or neighbor who can't get out much. You may be the only human contact they have that day.
Slow down and recharge your body: One of the ways to give your soul a chance to catch up with your body and build inner calm. Many of us are living our lives at an ever-faster pace and trying to balance a whole range of commitments from work to family.
Combat this by doing something to relax, for example, a spa day, deep breathing, or listening to happy music.
Sleep: While your Sunday lasts, wake up lazy whenever you want to.
Go To Park: Enjoy what the great outdoors has to offer by spending more time in your garden, local park, or even woods.
Being in natural surroundings can bring a real sense of tranquillity which is much needed for the week ahead. Being close to nature will give you the boost you need to calm down in the days ahead.
Give yourself a Treat: Take a little extra time to make yourself feel special. Order yourself brownies or banana loaf cake. Doll yourself up. Make your favorite breakfast, or wear your favorite shoes, the list is endless.
Binge Watch: If nothing at all, just binge-watch the season who have been meaning to watch the entire week.
Spend time with friends and family: Go for an outing and spend quality time with your family and loved ones. These are the people whom you love unconditionally, and spending quality time with them is not an everyday occurrence.
Spend time with friends: You may also make a friend their favorite meal. Have a slow time spent on Sunday with time with no agenda. Living in that Sunday blessed moment is entirely worth it: a moment where you can be. Or you can also reach out to your old friends and tell them you miss them.
Fun with siblings: If your siblings or friends are around ask who is up for a pillow fight. Spend some quality Sunday evening time with your siblings or friends. They will help you reconnect to a part of yourself you may have lost sight of over time.
Visit a sick friend: One can also take time out to visit someone who didn't show up at your workplace or college because they were sick. No one likes to be out of the loop, visit them to make them feel loved.
Cook something: You can even prepare a nice home-cooked meal for your family or roommate. Make a night of it and get the rest of the members of your household involved.
Sundays for Self-care
Sundays are the best days for you to pause and freeze your moment to do the following:
Take time when you eat. Make sure you can sit and enjoy every mouthful of what is in front of you.
Turn your phone off at night. Choose a time that feels right for you and doesn't allow you to text or send emails.
Go and stand outside for five minutes come rain or shine. Stepping outside of your usual environment for a short time will give you the head space you need to crack on with the rest of the day. It's like smoking without smoking.
Doodle. Rather than scouring the internet on Sunday all the time, why not get back to basics? Get a pen and paper and doodle away. You don't have to be good at drawing; it's more the motion and focuses needed that's great for your brain.
Take a real look around. You can be in the busiest environment for the entire week but still, feel you are in a calm place by just stopping and observing the scene. See others, listen to the sounds around you, feel the air quality, feel the clothes on your skin, and be aware of your breath leaving each nostril. Stopping without actually stopping requires a bit of awareness.
Make a to-do list before the next week starts. Whether at work or at home, if you have lists of tasks going around in your head, this can cause you to worry about the week ahead.
The simple act of writing a to-do list and crossing each item off as it is done is very cathartic and adds structure to your entire week. Have a blessed Sunday!